The Long-Delayed 'Amityville: The Awakening' Just Had One Of The Worst Opening Weekends Of All Time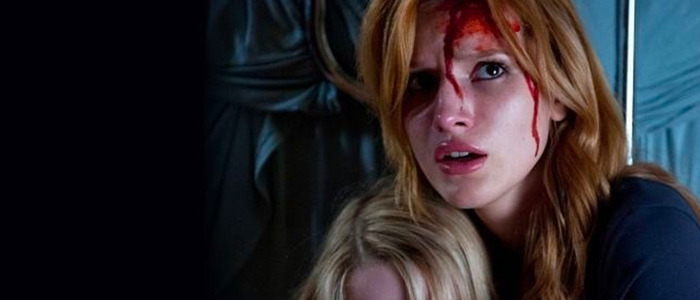 For years, movie fans would joke about whether or not Amityville: The Awakening actually existed. The tenth movie in the Amityville Horror series was filmed back in 2014, but found itself delayed. And delayed again. And again. Posters would arrive and trailers would appear, but the movie itself slid around the calendar like a hairless, grease-drenched monkey on a slip-n-slide. The film became a joke and each release date change kept the joke running.
Now, the joke has reached its final punchline: Amityville: The Awakening quietly hit theaters last Friday and suffered one of the worst opening weekends of all time.
Amityville: The Awakening grossed only $742 over the weekend from 10 theaters. That's an average of $74 per theater. And if we're going to be generous and assume that the average American movie ticket price of $8.84 applies here, that means that about 83 people nationwide paid to see the film over the weekend. It made less money than a South Korean movie called RV: Resurrected Victims. It made less money than Tulip Fever in its ninth week of release. Ouch.
That's a rightfully undignified conclusion for a film that has lived an undignified existence. It's also the natural next step when you consider that Amityville: The Awakening was literally dumped on Google Play earlier this month. For free. Ouch again.
Granted, we all saw this coming. Amityville: The Awakening was originally set to open on January 2, 2015 before being yanked off the schedule. It was then set for April 15, 2016. It was then pushed forward to April 1, 2016 before bouncing to January 6, 2017. And then it was set for June 30, 2017 before it fell by the wayside again. Its October release was finally announced in September. This movie has felt toxic for a long, long time.
The apparent lack of confidence in the film was underscored by the fact that the film's marketing simply, well, stopped. Only horror buffs knew this movie existed and they knew well enough to stay away. Plus, Dimension Films honcho Bob Weinstein has bigger and more loathsome things to concern himself with right now, so this opening was inevitable. But a three-digit opening weekend for a movie that is part of a long-running and recognizable horror series is the kind of car crash that makes us all want to slow down and gawk.
It's not like this formula is broken: The Conjuring 2 literally opens in the infamous Amityville haunted house and that movie made a bundle! The success of Get Out, Annabelle: Creation and It (and even the more modest success of Jigsaw over the weekend) prove that horror is alive and well and still pulling in audiences. Other headlines suggest that Dimension (or at least its leadership) may not be around in its current form much longer, but this is the latest example of the company completely crapping the bed when it comes to releasing a genre movie that should have been a modest success. Bad horror movies, if marketed well, make their money back. That's just basic Hollywood math.
Anyway, Amityville: The Awakening is apparently terrible and you probably shouldn't see it. But it does hit Blu-ray, DVD, and digital HD on November 14, 2017, just in case you want to take a closer look at the wreckage.