Visceral's Canceled 'Star Wars' Video Game Featured Scoundrels Stealthily Pulling Off Heists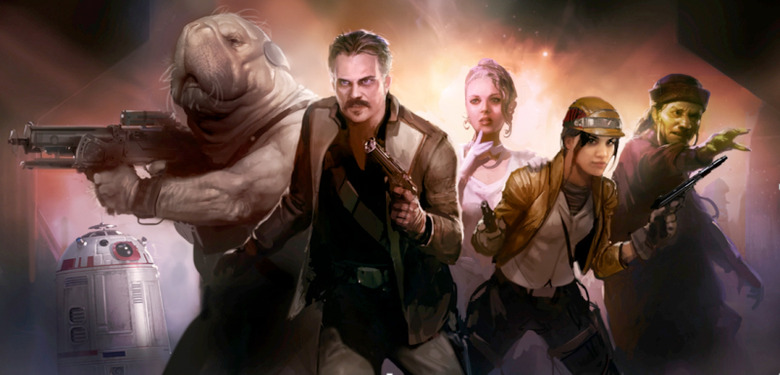 Recently, the video game production company Visceral Games was shut down, and that meant the developing Star Wars video game they were working was shifting gears. The game was codenamed Ragtag, and up until now, very few details were known about the project. But with the game being reworked by Electronic Arts now, details are starting to emerge about the original iteration of the game that fans will never get to play.
Find out details on the canceled Star Wars video game below.
Ragtag followed a character named Dodger, described as a "cracked mirror version of Han Solo," as he got caught up in a story of crime families and heists along with some fellow scoundrels. The story would have unfolded during the time between the events of Star Wars and The Empire Strikes Back with a special focus on how the destruction of Alderaan impacted certain parts of the galaxy.
Dodger can be seen at the center of the concept art above along with a gunslinger named Robie, the daughter of a mob boss named Oona, and Buck, a mentor to the rest of the team. You can see all those characters in the concept art above (from Kotaku), though we're not entirely sure which is which.  Our best guess is that Oona is in the background between Dodger and Robie, and Buck is on the far right, but that's just speculation on our part.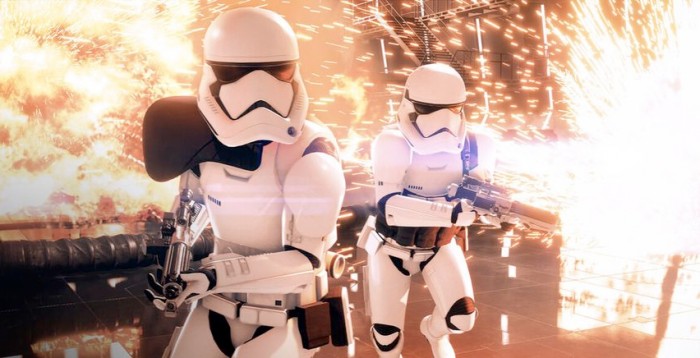 How This Game Would Have Been Different
Since Electronic Arts wanted this game to be different from the last title created by story director Amy Hennig (which was Uncharted 4), rather than having players control a single player throughout the story, they would have been able to control several members of the team. Much of the gameplay involved sabotaging the various environments of the game so that enemies would be distracted instead of simply being killed. Here's how one of the people working on the game described how this would have worked:
"Picture the Death Star, and they all have jobs. One Stormtrooper was on a command unit, moving boxes around. Some guys would be droids. It was supposed to be set up so it was all real, and it felt like they had jobs to do. We wanted to tap into emotions, so you could mess with Stormtroopers' emotions. Go into a room, turn the lights off. He goes back in and turns them back on. Then you turn them off again. At a certain point he starts getting spooked, acting irrationally, and bringing friends in."
That sounds incredible, and it would have been extremely fun to play. But apparently Electronic Arts wasn't happy with the progress that was being made on creating a game that was so ambitious. While a lot of work had been put into the traversal system (how a character moves through an environment) for Dodger and the team of scoundrels, Visceral hadn't created other key elements such as how these characters would shoot and the environments themselves.
The lack of progress forced EA to have their Vancouver studio get involved in 2016. While that helped move things along, including creating a demo that involved an AT-ST chase, a shootout on Tatooine, and an exploration of Jabba the Hutt's palace, EA felt like there wasn't enough of a difference between the Star Wars game and Uncharted 4. But that wasn't the only problem EA had with Ragtag.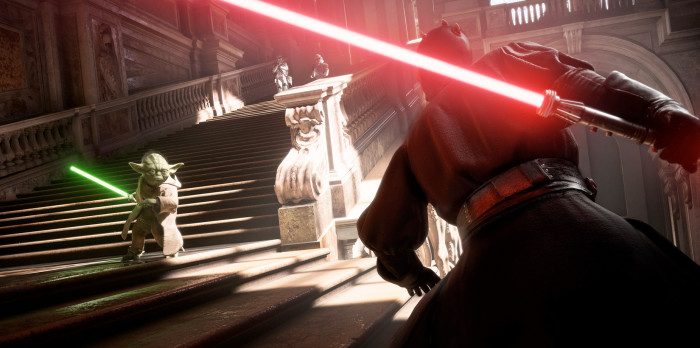 EA Wanted More Traditional Star Wars Elements
Kotaku's report on the game indicates that EA wasn't all that invested in this kind of Star Wars video game. They weren't very happy with the fact that this game was missing some of the more recognizable and popular pieces of the Star Wars galaxy. More specifically, there was no incorporation of any Jedi, lightsabers or the Force. One meeting in particular had one of the EA executives simply asking why Chewbacca wasn't involved in this game. A former Visceral employee recalled:
"EA would get obsessed with market research and start asking people what's important to them about Star Wars. You'd get, 'Oh, the Force, lightsabers, the usual Jedi continuum.' They're hyper focused on that stuff, and it'd be a topic of conversation in every pitch meeting."
EA's approach is understandable on some level, because they do have a game to sell after all. But not everything related to Star Wars needs to incorporate the Jedi and Sith. Star Wars fans have wanted to see the galaxy expand beyond the core signature characters in the galaxy for awhile now, and this game sounds like it would have really delivered on that promise, in addition to creating some truly fascinating gameplay. But would that have been something more casual Star Wars fans would have been interested to play? That's clearly where EA's head is at when it comes to Star Wars video games.
For their part, EA says they tried to make this game work, but they just didn't see it panning out favorably. EA executive president Patrick Soderlund said:
"We will always look at every way we can keep working on the ideas, and we did a lot of that here. We supported the team and their creative process, and we tried a lot of things. But at some point, you have to be honest with yourselves, and realize that we're not going to be able to get to where we want to be."
EA may not be entirely to blame either as plenty of details about the making of the game indicate that story director Amy Hennig may have been spread too thin and things weren't being managed properly in order to achieve the ambitious goals the studio had in mind for this game.
For now, EA Vancouver is in charge of Ragtag, which will be retooled and overhauled in the wake of Visceral's shutdown and their iteration of this game being canceled. So there's still another Star Wars video game in the works at EA, but it will likely be something completely different from what Visceral had planned. It's a shame we'll never get to see it.
You can get much more insight into the shut down of Visceral Games, including further details behind the scenes of this Star Wars game, in Kotaku's extensive report on the matter over here.
In the meantime, Star Wars Battlefront II is coming to consoles on November 17, 2017.