'Justice League' Promo: Wonder Woman Is The Glue Holding The Team Together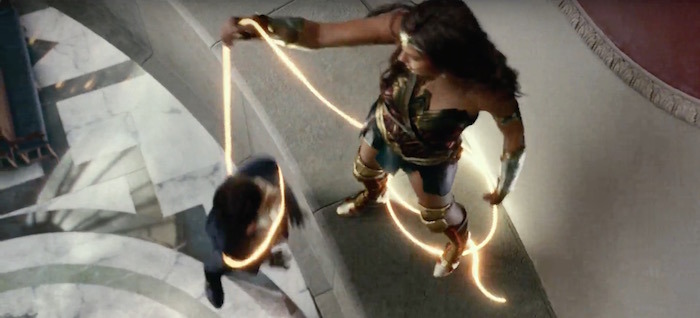 The Justice League promotional rollout just got a little more wonderful.
Capping off "Cyborg and Wonder Woman Week" is a new Wonder Woman-centric "First Look." The two-minute featurette explores Diana of Themyscira's role in the League, and how she helps assemble the team of superheroes. There's also a ton of new footage featuring her in action.
Watch the Justice League Wonder Woman Promo
The featurette drops some new footage of Diana's story arc, which picks up after she rejoined the world of superheroics in Batman v Superman: Dawn of Justice. This Diana seems a bit more world-weary than the bright-eyed optimist we met in this year's Wonder Woman, but is still a noble Amazon warrior who is eager to help bring about a new "Age of Heroes."
Gal Gadot happily gives a brief rundown of Diana's characteristics and motivations, calling her "this glue t0 the team. She makes each and every one of them feel stronger and capable." Gadot continues:
"She grew up isolated from the world of men. She's super smart, super sophisticated, full of hope. She's the most talented warrior but at the same time doesn't care for the fame or the glory. She partners with Batman to unite the League."
Alongside Gadot's narration is new footage of the bank robbery that Diana foils, the climactic fight scene against Steppenwolf, a glimpse of an epic battle between the Amazons and Steppenwolf's invading army, and your requisite superhero landing.
Here's the official synopsis for Justice League:
Fueled by his restored faith in humanity and inspired by Superman's (Henry Cavill) selfless act, Bruce Wayne (Ben Affleck) enlists newfound ally Diana Prince to face an even greater threat. Together, Batman and Wonder Woman work quickly to recruit a team to stand against this newly awakened enemy. Despite the formation of an unprecedented league of heroes — Batman, Wonder Woman, Aquaman, Cyborg and the Flash — it may be too late to save the planet from an assault of catastrophic proportions.
Justice League is directed by Zack Snyder, and stars Ben Affleck, Gal Gadot, Jason Momoa, Ezra Miller, Ray Fisher, Jeremy Irons, and J.K. Simmons. It is set to hit theaters on November 17, 2017.