'Runaways' Trailer Offers More Magic And Familiar Marvel Characters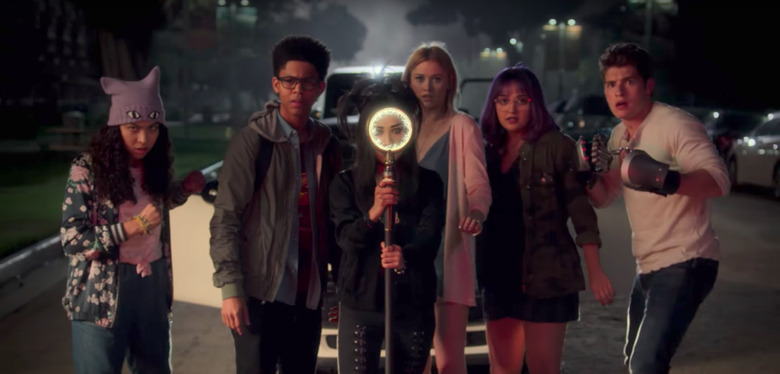 Until now, the trailers for Marvel's Runaways seemed to lean heavily on the "runaways" element of the title and not the "Marvel" element. It makes sense — the Hulu series is created by Josh Schwartz and Stephanie Savage of The OC fame, and is catered to the young adult demographic, relying on teen soap tropes to bring the characters from the Marvel Comics to life.
But the new Runaways trailer is a little bit more...marvelous. No more cryptic cult imagery or flashes of mysterious white light — it's magical staffs and genetically engineered dinosaurs galore. That's right Runaways fans, Old Lace is here.
Watch the Marvel's Runaways Trailer
It seemed for a while now that Marvel's Runaways would be one of those comic book shows that shuddered at using the "s" word: superhero. But was that a hint of Karolina Dean (Virginia Gardner) glowing? Is that Gert (Ariela Barer) uniting with her character's trademark genetically engineered velociraptor, Old Lace? Is Nico (Lyrica Okano) wielding a magic staff? Yes to all of those.
There are 100% more fight and chase scenes in this trailer, coupled with a few cheesy moments that feel like they were ripped straight out of Doctor Who. And that's a good thing — if Marvel's Runaways can capture the gleeful optimism of Doctor Who, it would be well on it's way to becoming one of the most promising superhero shows on TV.
Starring Rhenzy Feliz, Lyrica Okano, Virginia Gardner, Gregg Sulkin, Ariela Barer and Allegra Acosta as the titular heroes, Marvel's Runaways follows a group of seemingly normal teens who are shocked to discover that their parents are actually a cabal of super villains.
Here's the official synopsis for Marvel's Runaways:
After discovering their parents are super-villains in disguise, a group of teenagers band together to run away from their homes in order to atone for their parents' actions and to discover the secrets of their origins.
Marvel's Runaways will debut on Hulu on November 21, 2017.