'Bad Boys' TV Spin-Off With Gabrielle Union Ordered By NBC [Updated]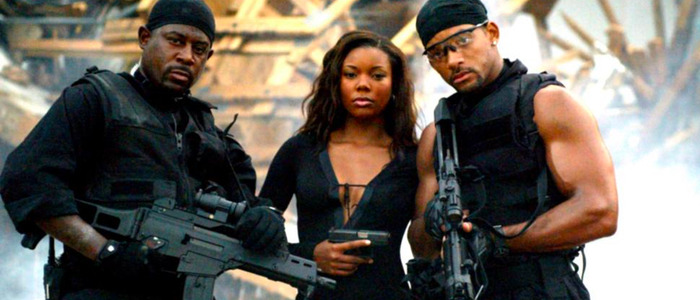 Update: The Hollywood Reporter says NBC has given a formal pilot order to this still-untitled show, and some new details about the plot have come to light. Those new details can be found at the bottom of our original article from October 2017, which begins below.
Plans for Bad Boys 3 may have stalled, but there's may still be some more action yet in the form of a new Bad Boys TV spin-off. The planned show will focus on Gabrielle Union's character from Bad Boys II, an undercover operative with the DEA. While it's doubtful Will Smith or Martin Lawrence's characters will show up, anyone looking for a Bad Boys fix might be keen to give the show a shot.
Remember the Bad Boys series? Michael Bay's ultra-slick, ultra-violent saga that starred Will Smith and Martin Lawrence as two hot and cold cops who caused a ton of destruction while trying to catch criminals? Bad Boys II hit theaters in 2003, and seemingly ever since then, there's been talk of a Bad Boys 3, but nothing has materialized. Recently, co-star Martin Lawrence claimed that a Bad Boys 3 was unlikely at this point, saying, "I don't think we're going to get one, not the way everything's turning out. Will is off doing another movie, and I don't think it's going to happen." However, soon after Lawrence's statement, producer Jerry Bruckheimer said that a third Bad Boys was still a possibility once scheduling-conflicts are cleared up and a script is in order:
"Well, we've been developing it for I don't know how many years now and we had a period of time where it got pretty close and then it drifted away a little bit and hopefully it will drift back again. We have a new writer on it who's working on it right now, so that gives me encouragement."
Just where, exactly, Bad Boys 3 stands right now is anyone's guess, but in the meantime, if you want more Bad Boys action in your life, good news: s*** just got real. In the bombastic Bad Boys II, Gabrielle Union played Sydney "Syd" Burnett, sister of Martin Lawrence's Marcus Burnett. Unbeknownst to both Marcus and Smith's Mike Lowery, Sydney was an undercover special agent with the DEA tracking dangerous money launderers. Much mayhem and several car chases followed. Deadline reports a Bad Boys TV spinoff centered around Union's character is in the works, with The Blacklist writers Brandon Margolis and Brandon Sonnier working on the script for the as-of-now untitled spin-off.
Just how much interest there is for a Bad Boys spin-off not featuring the two main bad boys themselves remains to be seen, but per the Deadline story, the potential show has "garnered strong interest from multiple places and is expected to land a major commitment." Just when and where this Bad Boys TV spin-off will end up is anyone's guess, but in the meantime, why not watch an absolutely ridiculous chase sequence from Bad Boys II?
Update 1/28/2018: THR's piece reveals that Gabrielle Union's Syd "has a fresh start in her new job as an LAPD detective" in the female-driven show, and she will be "partnered with Nancy McKenna, a working mom who can't help but look at Syd's freedom with some grass-is-greener envy. These two have totally different lifestyles and approaches, but they both are at the top of their fields in this action-packed, character-driven procedural."