Final 'Justice League' Trailer Gives Us Our First Real Look At The Villainous Steppenwolf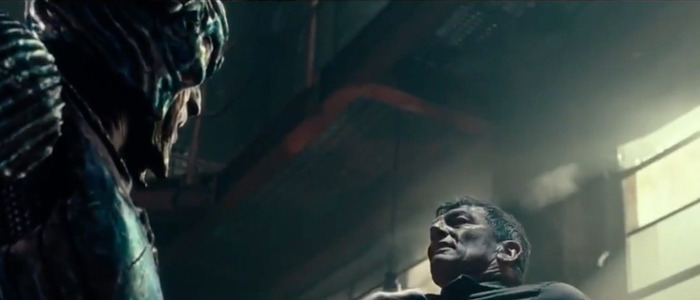 The release of Justice League is fast approaching, tickets are on sale now, and there's a final international trailer loaded with new footage, including our first good look at the film's big bad, Steppenwolf. So come together below and watch the final Justice League trailer.
It's hard to believe Justice League is finally about to hit theaters. It feels like we've all been talking about this movie for the longest time, and now the big team-up of the DCEU heroes is mere weeks away. We've already had multiple trailers to give us a sense of what to expect, but a brand new final Justice League trailer has even more action-packed footage.
Justice League Trailer
Not only does this final international Justice League trailer give us new footage, it also gives us our first real look at the film's villain Steppenwolf, played by Ciarán Hinds. Steppenwolf is an intergalactic threat to the Justice League, leading an army of Parademons (those winged creatures you glimpsed in the lengthy desert dream sequence in Batman v. Superman), who are on the hunt for three Mother Boxes on Earth. A deleted scene from Batman v. Superman: Dawn of Justice gave us the briefest of glimpses of the character, and previous trailers included quick shots and a few voice overs. Here, however, we see Steppenwolf in action, growling, "This world will fall, like all the others!"
The trailer also puts Gal Gadot's Wonder Woman front and center, which makes sense, since Wonder Woman was the only DCEU film almost everyone seemed to like. On top of all that, we get more Aquaman drinking and more Batman making jokes. But if you were hoping for some shots of Henry Cavill's Superman in action, you're out of luck. All the trailers for Justice League have been low on plot and big on action, and this one is no exception. That's not a criticism; it just shows that Warner Brothers and DC are working hard to keep most of the plot details secretive so they'll feel fresh when audiences get their first look at the film.
Here's the official synopsis, which is also vague enough to keep spoilers to a minimum:
Fueled by his restored faith in humanity and inspired by Superman's (Henry Cavill) selfless act, Bruce Wayne (Ben Affleck) enlists newfound ally Diana Prince to face an even greater threat. Together, Batman and Wonder Woman work quickly to recruit a team to stand against this newly awakened enemy. Despite the formation of an unprecedented league of heroes — Batman, Wonder Woman, Aquaman, Cyborg and the Flash — it may be too late to save the planet from an assault of catastrophic proportions.
Justice League opens November 17, 2017.