Daily Podcast: Attendance Numbers Vs. Box Office Grosses, Captain Marvel, GeoStorm, Shaun Of The Dead & More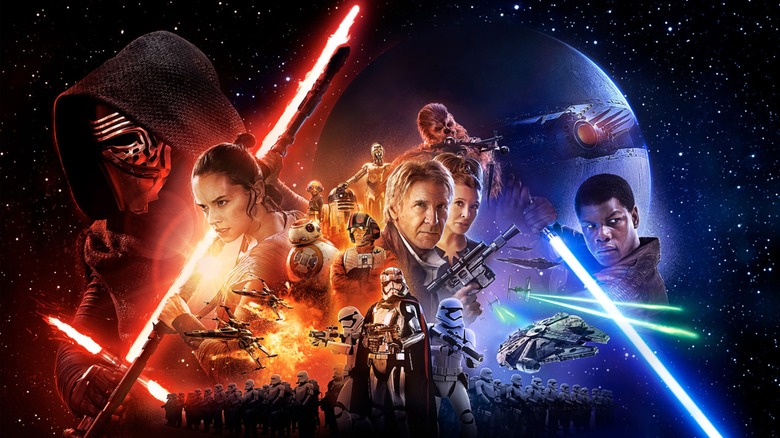 On the October 25, 2017 episode of /Film Daily, Peter Sciretta is joined by Ben Pearson and Chris Evangelista to talk about the latest news, including Captain Marvel gets a Star Wars villain, Geostorm's box office failure, Venom motion capture, a Shaun of the Dead sequel, an American Gangster prequel tv series and Mark Wahlberg asks God for forgiveness. And in The Mail Bag, we'll answer a question about why box office numbers don't tell us attendance figures.You can subscribe to /Film Daily on iTunes, Google Play, Overcast and all the popular podcast apps (here is the RSS URL if you need it).
In the News:
Chris -
Ben Mendelsohn In Talks
For 'Captain Marvel' Villain
Ben -
'Geostorm' Might Lose $100 Million
, 'Jigsaw' Eyeing a $20+ Million
Peter – Tom Hardy Will Be Playing Venom
Through Motion-Capture
Chris – Simon Pegg Pitched Edgar Wright
a 'Shaun of the Dead' Sequel With Vampires
Ben -
'American Gangster' Prequel Series
Being Developed, Will Star Forest Whitaker
Chris – Mark Wahlberg Asked God to
Forgive Him For 'Boogie Nights'
(But Not 'Transformers')
Feedback:
Performances We can't imagine anyone else playing:
Geoff S: Kathy Bates as Annie Wilkes in Misery
Aaron from Iowa City: Ian McKellan as Gandalf. "the Lord of the Rings trilogy is one of the most perfectly cast movies of all-time. I was skeptical of some of the choices, but there is not a bad casting choice in the whole bunch."
Kendra from Maryland: Sigourney Weaver – Ripley – Alien, Ralph Fiennes – M. Gustave – Grand Budapest Hotel, Bruce Willis- John McClane – Die Hard, Alan Rickman – Professor Snape – Harry Potter, Entire Cast – The Color Purple Denzel Washington – Malcolm X
Deceptive Trailers:
Sterling: "I went to see Suburbicon and WOW that fits the bill. This was nothing like the trailers led me to believe. The trailer was cut aggressively deceptive.  Did any of you guys see it?"
Britt D from Austin, TX: It Comes At Night– the trailer made this film seem as though it would be some sort of creepy, slow-burn monster movie. Instead, it was a really tense family drama/stunted coming-of-age story. My boyfriend and I waited for the "It" of the film's title to reveal itself, which never happened. It wasn't a bad movie, as I found it very emotionally compelling, but it was mis-marketed in what I assume was to draw in a larger audience.  Ghost in the Shell–the trailer was intense, visually striking, and led me to believe that the film would be mysterious. Instead, most of the interesting visuals were right in the first couple of minutes, and the story/main conflict was pretty simple and easy to figure out before the characters worked their way through the conflict.
In The Mailbag: Kendra from Maryland writes in: "Why aren't box office indicators in the following categories: number of tickets sold, IMAX tickets sold, and gross revenue?  Tickets sold, would give us a better indication (kind of like record sales) of how many people have actually seen the movie rather than the movie grossed 20M at the box office.  IMAX tickets sold would give us an indication of how many people are really going to see the movie in IMAX, plus the cost is significantly different from a regular movie ticket.  Gross revenue should equal box office sales; depending on geographies the pricing for movies are different plus you have to consider inflation."To submit questions to the mailbag, send them to peter@slashfilm.com. Please mention your name and general geographical location in case we mention the question on the air.You can find more about all the stories we mentioned on today's show at slashfilm.com. /Film Daily is published every weekday, bringing you the most exciting news from the world of movies and television as well as deeper dives into the great features from slashfilm.com. You can subscribe to /Film Daily on iTunes, Google Play, Overcast and all the popular podcast apps (RSS). We're still very much experimenting with this podcast, please feel free to send your feedback to us at peter@slashfilm.com. Please rate and review the podcast on iTunes and spread the word! Thanks to Sam Hume for our logo.