'Deathstroke' Movie Coming From 'The Raid' Director Gareth Evans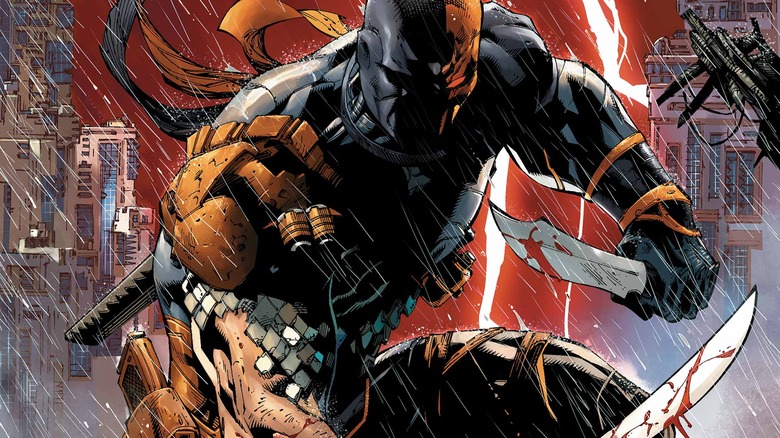 Gareth Evans, the Welsh director behind The Raid and The Raid 2, is currently in talks to direct a Deathstroke movie as part of the DC Extended Universe. Hey, Warner Bros.? You want to get film fans excited for a Deathstroke movie? This is how you get film fans excited for a Deathstroke movie.The Wrap has the scoop, reporting that Evans is currently in talks to write and direct the film. Joe Manganiello, who was cast as the DC Universe anti-hero when he was once going to be the main antagonist of the upcoming Batman solo movie, remains attached to play the one-eyed mercenary. You may remember Ben Affleck tweeting what looked like test footage of Deathstroke in action some time ago, back when he was still set to helm the next Batman movie.
— Ben Affleck (@BenAffleck) August 29, 2016
Interestingly, The Wrap also repots that Evans that was initially offered Justice League Dark, but turned it down, only to turn around and impress Warner Bros. with his take on Deathstroke.
Created by writer Marv Wolfman and artist George Pérez in the pages of Teen Titans (where he was a longtime chief adversary for that superhero team), Deathstroke is the codename for Slade Wilson, a grizzled soldier of fortune who tends to work for whoever is paying him the most (or whoever can get him what he wants). Although the usual scientific experiments have given him enhanced strength and speed, Deathstroke's greatest power has always been his superhuman mind. Capable of using 90% of his brain at once, he's the ultimate tactician, able to go toe-to-toe with the DC Universe's heavy hitters and live to tell the tale.
In short, he's a great fit for Evans, a filmmaker who took the action genre and broke it over his knee before kicking it through a wall with both of the Raid movies. They are, no hyperbole, two of the most kinetic and exciting and overwhelming action movies of the past 20 years. It was only a matter of time before a major studio brought him into the fold and Warner Bros. has wisely realized that he could be the perfect match for a merciless anti-hero who fights like Batman but has no qualms about leaving corpses.
And anti-hero may be the key word here. The fact that this is a solo movie and not a role in a Batman film suggests that we'll be seeing a slightly more heroic Deathstroke, or at least one who isn't a total villain. The current comic book run could be a good touchstone: it's essentially a crime drama where Slade and his extended web of allies and family members bounce into each other and across the DC universe in bloody, darkly funny ways.
It's not clear when we can expect Deathstroke to arrive, but we'll be seeing more from Evans soon enough. His new movie, a thriller starring Dan Stevens called Apostle, will be released by Netflix next year. If you want more Deathstroke, the character was previously played by Manu Bennett on The CW's Arrow.