'Daredevil' Season 3 Brings Back Vincent D'Onofrio As Kingpin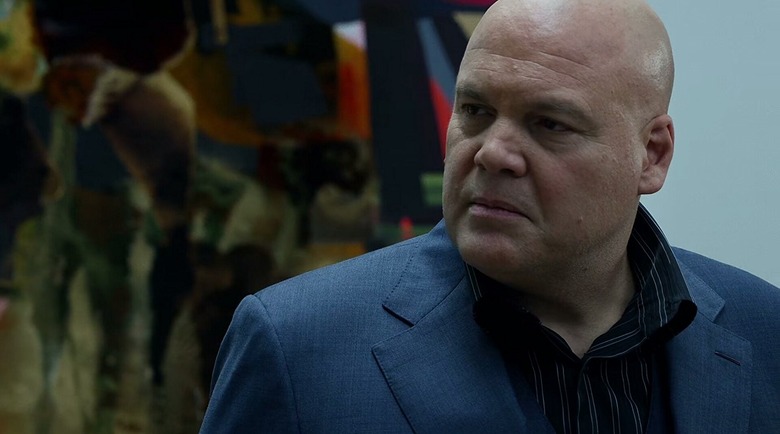 Forget "out with the old and in with the new" — Daredevil season 3 asks why we can't have both.
First the old: Vincent D'Onofrio is returning as the Marvel-Netflix series' best and most complex villain, Kingpin. And the new: Erik Oleson is joining the superhero series as the new showrunner, replacing season 2's Doug Petrie and Marco Ramirez.
Things are starting to get cooking in Hell's Kitchen as Daredevil prepares for its upcoming third season in front of and behind the cameras. D'Onofrio is officially returning as Wilson Fisk for the superhero show's third season, after appearing in season 1 and season 2, according to Deadline.
This adds credence to the reports that season 3 will follow Daredevil's infamous "Born Again" storyline, in which Matt Murdock's identity is betrayed to Wilson Fisk, who uses it to make Matt's life a living hell. Wilson Fisk is arguably the most compelling character in all of Daredevil, with the first season expertly drawing parallels between Wilson's troubled origin and Matt Murdock's own struggles. While D'Onofrio offered an electrifying appearance in season 2 — giving us one of the best scenes of the season in the confrontation between Jon Bernthal's Frank Castle and Fisk — it was essentially a glorified cameo appearance.
While there's no confirmation that his role in season 3 will be upped to Big Bad capacity once again, it seems to be leaning in that direction. An expanded role for D'Onofrio's Fisk would be all the better for Daredevil, which found itself going through a sophomore slump in the absence of a powerful villain. Wilson is one of the best Marvel TV villains, if not one of the best MCU villains, and offers a formidable foil to the brooding Matt Murdock. And if Ayelet Zurer returns as Wilson's equally intriguing wife Vanessa, I'll be the happiest camper.
Marvel TV executive producer Jeph Loeb told Deadline:
"Vincent is an exceptional actor who returns with the incredible gravitas he brings to Fisk. We're very excited how Marvel's Daredevil develops through the creative lens and guidance of our new showrunner, Erik Oleson."
Oleson is the third party to oversee the Netflix series after Steven S. DeKnight left after season 1 and Petrie and Ramirez departed after season 2. The revolving door of showrunners may bode ill for some series, but it seems to have become a regular feature for Daredevil, which suffered a small dip in quality in the latter of season 2, but is not too worse for the wear. Oleson has the superhero series cred too, spending time as a co-executive producer on the CW's Arrow, and recently working as an executive producer and writer on Amazon's The Man in the High Castle.
Netflix has yet to announce a launch date for Daredevil season 3, but it will likely return to Netflix in 2018 after Jessica Jones season 2 premieres. The Punisher is the next Marvel-Netflix series to hit the small screen, premiering on Netflix on November 17, 2017.