Another 'Team Thor' Short In The Works, This Time With The Grandmaster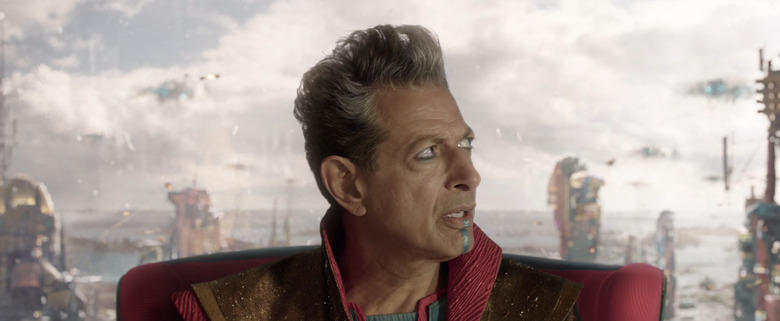 Months before the Thor: Ragnarok trailers surprised everyone with their irreverent tone and wacky dialogue, director Taika Waititi was workshopping the more lighthearted take on Thor in a medium he knew best: mockumentaries.
The director drew from his experience making the brilliant supernatural mockumentary What We Do in the Shadows, taking a hammer (heh) to the dour tone that Thor had adopted in Thor: The Dark World to give the God of Thunder a zany makeover and an ordinary roommate, Darryl. While Darryl is tragically not canonical, that doesn't mean we've seen the last of him. Our favorite hapless Australian flatmate may soon be getting a visit from a certain Grandmaster, Jeff Goldblum revealed.
Thor: Ragnarok hasn't even hit theaters yet, but its cast and crew are reportedly gearing up for the Blu-ray release — specifically, the special features that come with that Blu-ray.
In a recent interview with ComicBookMovie, Goldblum teased that the third part to the Team Thor shorts is currently in the works, with the Grandmaster taking a turn at interacting with Darryl:
"So what happens? Well, I could go anywhere – I might knock on your door, and say hello. Guess who's here? I shot a thing with Taika, where there's a roommate in Australia. I show up at his, and I do knock on his door. And I take up residence in the little flat, as they say here. That's what I do. And order things from the takeaway restaurant. Buy all the local foods."
Already sounds like the best premise ever, and I can't wait to watch it, right now immediately. Unfortunately, it'll be another few months until this rumored short film hits the Interwebs, so you'll have to make do with watching the first two Team Thor shorts over and over again. And maybe pair it with a few rounds of the Jeff Goldblum laugh remix.
Here's the official synopsis for Thor: Ragnarok:
Imprisoned on the other side of the universe, the mighty Thor finds himself in a deadly gladiatorial contest that pits him against the Hulk, his former ally and fellow Avenger. Thor's quest for survival leads him in a race against time to prevent the all-powerful Hela from destroying his home world and the Asgardian civilization.
Thor Ragnarok stars Chris Hemsworth, Tom Hiddleston, Cate Blanchett, Idris Elba, Jeff Goldblum, Tessa Thompson, Karl Urban, Mark Ruffalo, and Anthony Hopkins, and is set to hit theaters on November 2, 2017.