Exclusive: MondoCon Reveals New Posters For 'Jaws 2' And 'Spring Breakers,' Merch For 'Jaws' And 'Preacher'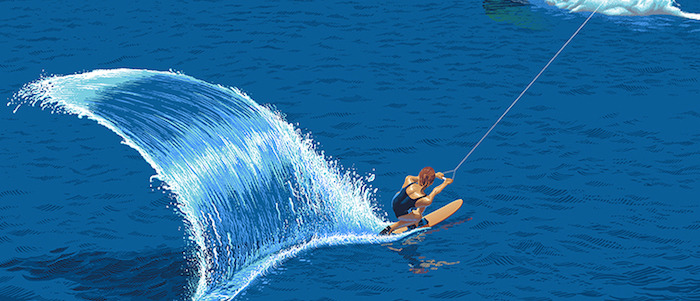 MondoCon, the annual convention put on by the ever-popular pop culture art company Mondo, returns to Austin, Texas in a little over a week. Whether you're there to spend a little too much money on amazing posters, meet some of your favorite artists, or attend informative panels that take on topics ranging from toy making to comic book art, it's an incredibly entertaining weekend.
Now, we're pleased to debut several pieces that will be available at this year's con: a Jaws 2 poster from the masterful Laurent Durieux, a Jaws pin based on Durieux's poster for the original movie, a colorful Spring Breakers poster from Cameron Stewart, and a Preacher statue based on AMC's television adaptation of the celebrated Vertigo comic.
While you won't find many (any?) movie fans who prefer Jaws 2 to Steven Spielberg's original masterpiece, Laurent Durieux's poster for the 1978 sequel is a thing of beauty that suggests a much, much better movie. The bright colors and pleasant atmosphere depict a typical beach scene, but the curvature of that water suggest the threat lurking just under the surface, a beast that everyone in Amity is doing their absolute best to ignore. Mondo has done a lot of Jaws posters, but I love how this one suggests the threat of the shark rather than show it outright. It perfectly captures the spirit of the early films, where characters refuse to accept that there's a problem until things go truly wrong.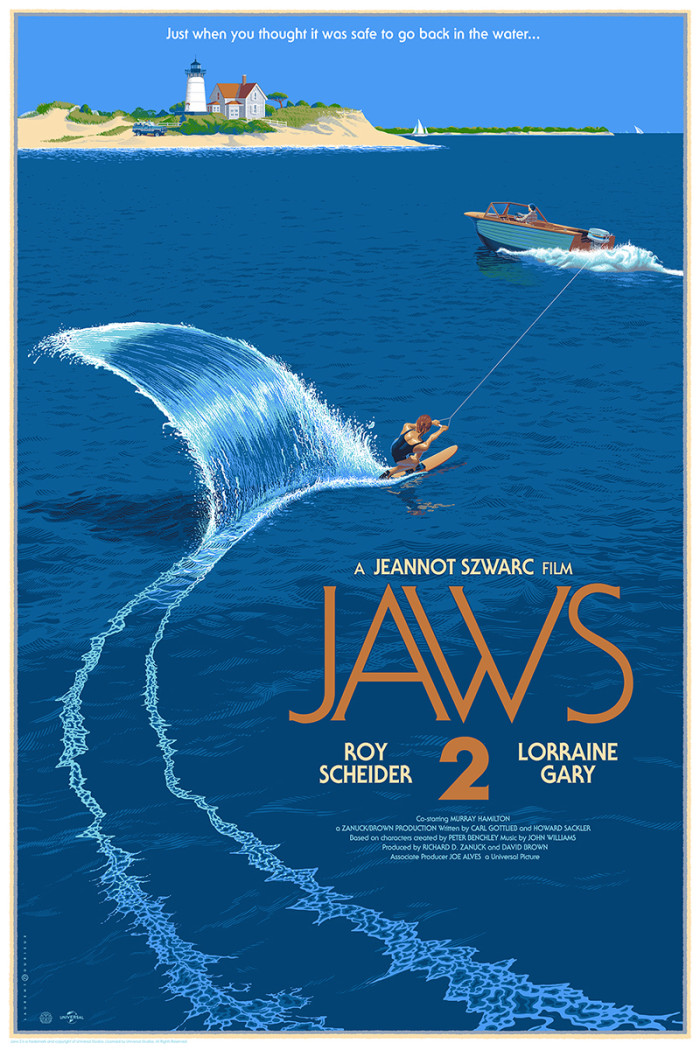 This is not Durieux's first time working with this iconography. As some Mondo fans may remember, he previously made a poster for the first movie, where the shark's fin cuts through an otherwise idyllic scene. Now, that poster has been transformed into a pin that will be available at MondoCon. Here it is, with and without its packaging:
Speaking of beach movies, how about this poster for Harmony Korine's Spring Breakers? The wild and colorful crime movie gets an appropriately wild and colorful poster from artist Cameron Stewart, casting James Franco in shadows against a bright pink backdrop. I especially like how the more absurd imagery from the film is contained to his clothing, offering a look at the film's nuttier edges while also replicating the loud Hawaiian shirts his character wears through the film. What a clever poster!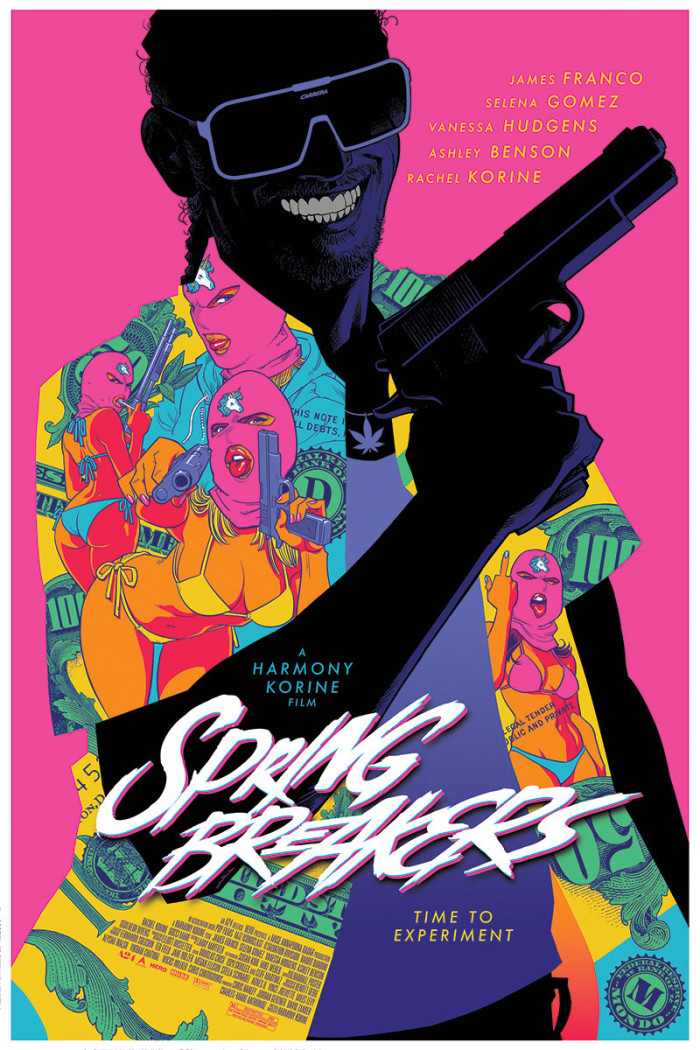 And finally, here's a statue of Jesse Custer from AMC's Preacher and it's a stunning recreation of actor Dominic Cooper. Sculpted by Matthew Black and based on art by Rory Kurtz, this will not be on sale at MondoCon – it will be on display only. However, I wouldn't be surprised if we learn details like release window and price during the con, so keep your ears open if this looks like something you want on your shelf.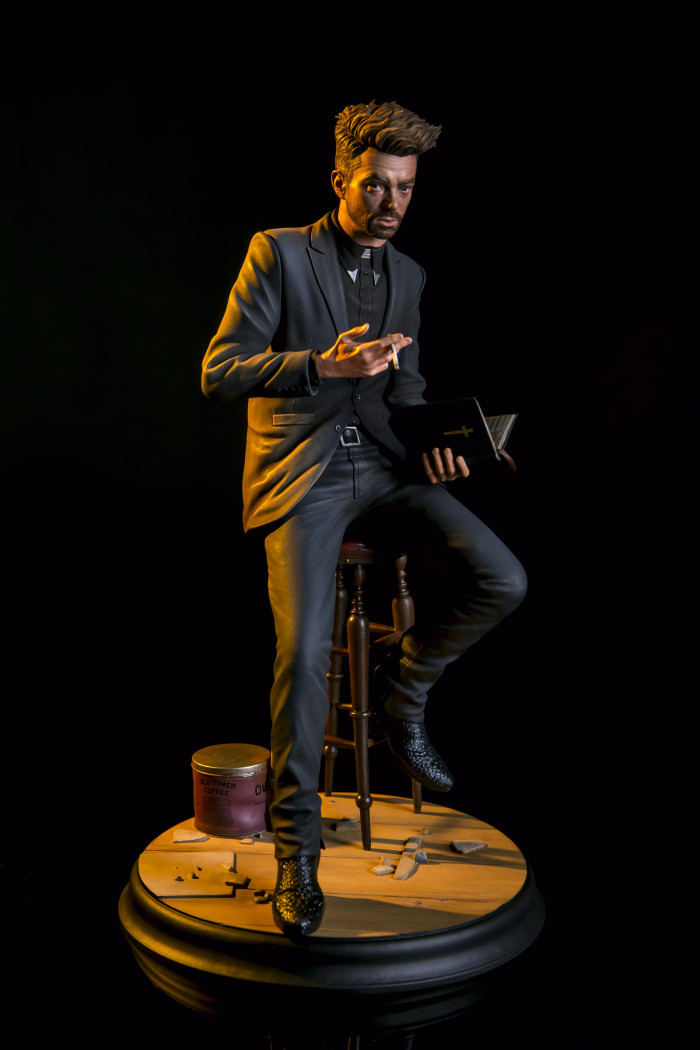 MondoCon 2017 runs November 4-5 at the Austin American-Statesman building in downtown Austin, Texas. Tickets are currently sold out, but we will be in attendance to keep you updated on everything you need to know.
For the record, this year's astonishing line-up of talent in attendance includes Martin Ansin, Oliver Barrett, Richey Beckett, Florian Bertmer, Jonathan Burton, Scott C, Sam Wolfe Connelly, Becky Cloonan, Daniel Danger, Craig Drake, Aaron Draplin, Jason Edmiston, Francesco Francavilla, Nicole Gustafsson, JJ Harrison, Industry Print Shop, Jock, Rob Jones, Alex Kirzhner, Rory Kurtz, Landland, Dan McCarthy, Mike Mitchell, The National Poster Retrospecticus, Randy Ortiz, Alex Pardee, Phantom City Creative, Eric Powell, Gary Pullin, Retroband, JC Richard, Jay Ryan, Justin Santora, Mike Saputo, Scarecrowoven, Todd Slater, Stan & Vince, William Stout, Matt Taylor, Tiny Kitten Teeth, Matt Ryan Tobin, Kevin Tong, Unbox Industries, The VACVVM, Teagan White, Erica Williams, and N.C. Winters.