'Justice League' Cyborg Promo Seems To Feature A Giant Spoiler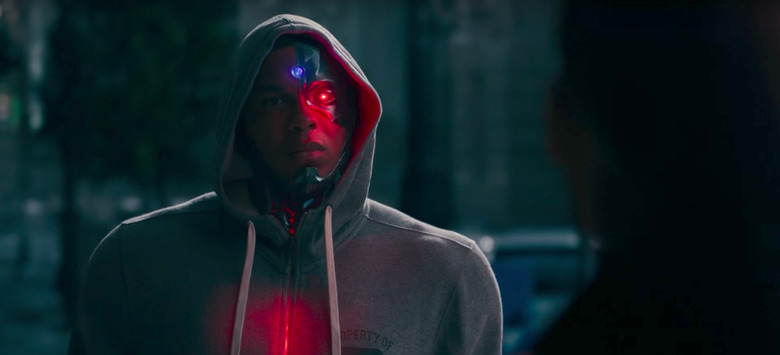 The countdown to Justice League continues, with Warner Bros. rolling out the promotional campaign for each of its members week-by-week. A wise move considering the fact that we'll be meeting two-thirds of the superhero team for the first time in this film. This week is all about Wonder Woman and Cyborg.
We know all about Wonder Woman of course, so let's focus on Cyborg, whose story arc is largely revealed in the brief promo centered on the technopathic hero, as well as new behind-the-scenes stills released by Warner Bros. But there might also be a blink-and-you'll-miss-it spoiler hidden in the Cyborg first look.
Watch the Justice League Cyborg Promo
The promo is pretty standard, showing flashes of Cyborg's origin story as actor Ray Fisher explains how the hero transformed from a promising student athlete into a part-man, part-machine being. But pause at the 1:00-minute mark, and there's a very brief shot of Cyborg fighting the movie's Big Bad, Steppenwolf, who seems to be holding what looks like Victor Stone's father, Silas Stone (Joe Morton), by the scruff of the neck. Or could he be impaling him?
It is almost certainly Silas Stone, who has appeared in his signature brown coat in trailers and promotional materials before. Dr. Stone is the one responsible for Victor's current state, having merged his son's body with alien technology to save his life after Victor suffered a horrific accident.
Whether Silas dies or not by the hands of Steppenwolf, it seems like Cyborg may have the fullest story arc of all the characters — though it will reportedly be significantly lighter post-reshoots. We'll even see some of Victor's life before his accident, as shown in the new behind-the-scenes stills released by Warner Bros.
Justice League is looking to be more jam-packed with characters and subplots by the minute, but with its shorter than expected run time, it hopefully won't feel rushed. At least all the members have the benefit of looking forward to their own solo outings — whenever that will be.
Here's the official synopsis for Justice League:
Fueled by his restored faith in humanity and inspired by Superman's (Henry Cavill) selfless act, Bruce Wayne (Ben Affleck) enlists newfound ally Diana Prince to face an even greater threat. Together, Batman and Wonder Woman work quickly to recruit a team to stand against this newly awakened enemy. Despite the formation of an unprecedented league of heroes — Batman, Wonder Woman, Aquaman, Cyborg and the Flash — it may be too late to save the planet from an assault of catastrophic proportions.
Justice League is set to hit theaters on November 17, 2017.