Ben Mendelsohn In Talks For 'Captain Marvel' Villain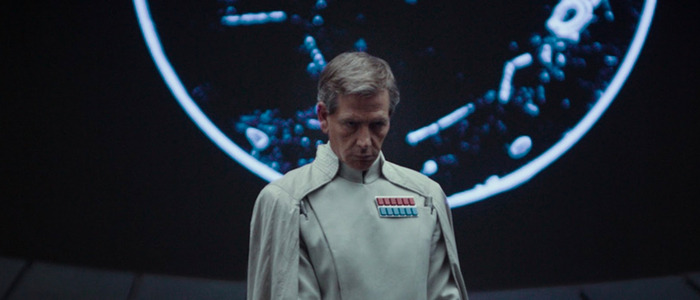 Ben Mendelsohn, a great actor who lately seems to specialize in playing bad guys, is in talks to play the villain in Captain Marvel. If Mendelsohn took the role, it would reunite him with his Mississippi Grind directors Anna Boden and Ryan Fleck. Details below.
Ben Mendelsohn stole most of the show as the gloriously caped bad guy in Star Wars: Rogue One, and now he might be moving from one Disney property to the next. Variety reports that Mendelsohn is in talks to play the lead villain in Marvel's upcoming Captain Marvel, starring Brie Larson. Mendelsohn's potential connection to the project makes sense: the actor previously worked with Captain Marvel directors Anna Boden and Ryan Fleck on the indie film Mississippi Grind, who co-starred Deadpool's Ryan Reynolds.
The Variety story doesn't reveal just which villain Mendelsohn would be playing, but we know (via Kevin Feige) that the alien race known as The Skrulls will be featured in Captain Marvel. This hints that Mendelsohn might be playing the leader of the Skrulls. Then again, he could be playing a completely different character we're not even aware of yet. The sky's the limit. Let's just hope they give him another awesome cape.
The Australian Mendelsohn has been acting since 1984, but in recent years his star has been on the rise after giving one excellent performance after the next. He stole the show on the Netflix series Bloodline, and gave memorable turns in Slow West, Killing Them Softly and The Place Beyond the Pines. He even has some superhero movie experience, having appeared in The Dark Knight Rises as the guy who gets his face crushed by Bane. On working with Mendelsohn for Mississippi Grind, co-director Fleck said:
"Ben tends to play very dark, brooding, violent, volatile characters, and we wanted to use the unpredictable nature of his acting style, but to a different effect. We wanted it to go into a more sort of—there's humor in him. I mean, he's actually a really funny guy, and it's nice to see that side of him."
Mendelsohn will next be seen in Darkest Hour, where he plays King George VI. Following that, he'll appear as the villain in Steven Spielberg's Ready Player One, and as the villainous Sheriff of Nottingham in yet another film incarnation of Robin Hood. Dude clearly likes playing villains.
Captain Marvel will take the Marvel Cinematic Universe back to 1999, where Brie Larson will play Carol Danvers, an Air Force whose DNA is fused with alien DNA during an accident. The aftermath of the accident leaves Danvers with superpowers, including flight and super-strength. Samuel L. Jackson will reprise his MCU role as Nick Fury in the film.Captain Marvel will open March 6, 2019.