'Star Wars Rebels' Clips Find The Ghost Crew Returning To Lothal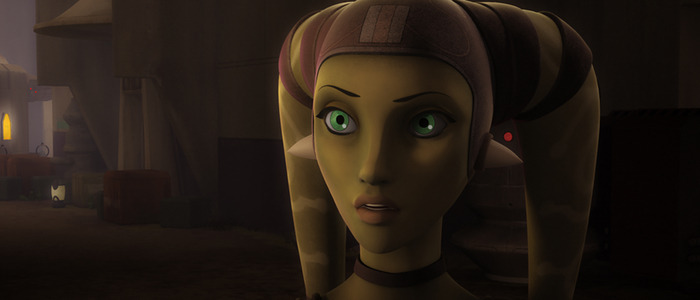 Star Wars Rebels is currently airing its final season on Disney XD. The series, which bridges the gap between Star Wars Episode III: Revenge of the Sith and Star Wars: Rogue One, follows the crew of the freighter starship the Ghost as they conduct operations against the Empire. Two new Star Wars Rebels clips find the Ghost crew returning to Lothal to face a new threat.Star Wars Rebels is speeding towards its season finale, with its fourth and final season focusing on a more serialized storyline, one that will hopefully answering lingering questions fans may have. The animated Star Wars series will air a one-hour block next Monday, and in anticipation of that, two new clips are here to give fans a glimpse of what to expect.
Star Wars Rebels: The Occupation
In the first clip, titled "Some time alone," characters Hera (voiced by Vanessa Marshall ) and Kanan (Freddie Prinze, Jr.) return to the planet Lothal and find it much different than the one they left. There are both Stormtroppers and scenes of potential smooching here, so really, there's something for everyone.
Star Wars Rebels: Unexpected Help
The second clip, "Unexpected Help", shows Ezra (Taylor Gray) and Sabine (Tiya Sircar) running into problems while attempting to steal a TIE Defender. Meanwhile, the villainous Grand Admiral Thrawn (Lars Mikkelsen) lurks. There's also an appearance of a wolf, a mysterious figure that fans have been speculating about for long time.
Showrunner Dave Filoni has said in the past about how important it is for the final Star Wars Rebels season to answer lingering questions, while building to a satisfying conclusion:
"I don't want this season to be one answer after another, but I wanted to make sure there are things we've set up that we pay off and that you feel you got some answers. There are some big time explanations and reveals that are unlike anything we've done, and there are also other levels of weirdness that I've added to make up for that fact...Having a proper ending that you could build to, and celebrate, and put up there and say, 'This is the story, this is why we told the story.' That feels really good."
You can also check out a gallery of images from the upcoming two Star Wars Rebels episodes below. The episodes air October 30, 2017 on Disney XD.