'Godless' Trailer: Scott Frank's Western Netflix Series Looks Like The Show We Need Right Now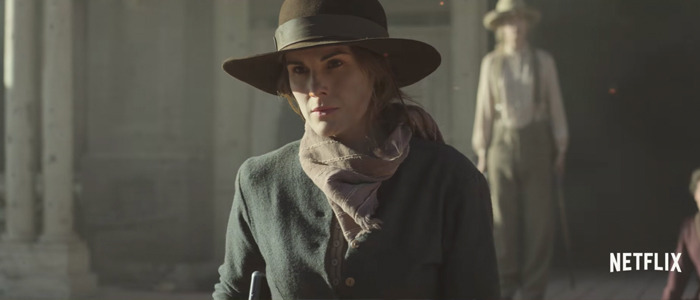 When filmmaker Steven Soderbergh (Ocean's Eleven, Logan Lucky) gets involved in a project, I pay attention. When that project happens to be a western, a genre I've always loved...well, I'm hooked already.
Such is the case with Godless, a Netflix limited series Soderbergh is producing for writer/director Scott Frank (The Lookout). The streaming service has just unveiled a full-length trailer for the new show, and since it follows a group of women running a New Mexico town and taking a stand against a group of male outlaws, it seems like exactly the kind of story we need right now. Take a look for yourselves and see what I mean below.
Godless trailer
I. Am. Here. For. This.
I haven't seen Unbroken, '71, or Starred Up yet – the three films led by the young Jack O'Connell – but even though I'm largely unfamiliar with his work, the story, style, and attitude on display in this trailer gives me all the confirmation I need that this is worth a watch.
In a world in which more sickening revelations are coming out against Hollywood stalwarts like producer Harvey Weinstein and director James Toback practically every few hours, it's great to see a story in which women take center stage and stand up against men who ride in thinking they can do whatever they want. Westerns are historically a genre in which female characters are often relegated to the sidelines, so this looks like a nice change of pace – and a hell of an entertaining piece of television storytelling.
Frank and Soderbergh previously collaborated when Frank wrote Soderbergh's 1998 Elmore Leonard adaptation Out of Sight. Frank, who also directed A Walk Among the Tombstones and wrote films like Logan, Get Shorty, and Minority Report, had been trying to get Godless made as a feature for years when Netflix came calling and said he could flesh it out as a limited series.
Godless stars O'Connell, Michelle Dockery (Downton Abbey, Non-Stop), Thomas Brodie-Sangster (Game of Thrones), Merritt Wever (The Walking Dead), and Jeff Daniels (Dumb & Dumber, The Newsroom), and the show's first, and perhaps only, season debuts on Netflix on November 22, 2017.
It is a fearful thing, to love what death can touch. Godless follows the fates of Frank Griffin and his murderous gang... of Roy Goode, the member who turned against them... and of La Belle, the town full of women who must defend themselves when they get caught in the crossfire. Welcome to Godless country.