'War For The Planet Of The Apes' Deleted Scene Reveals What Happened To Jason Clarke's Malcolm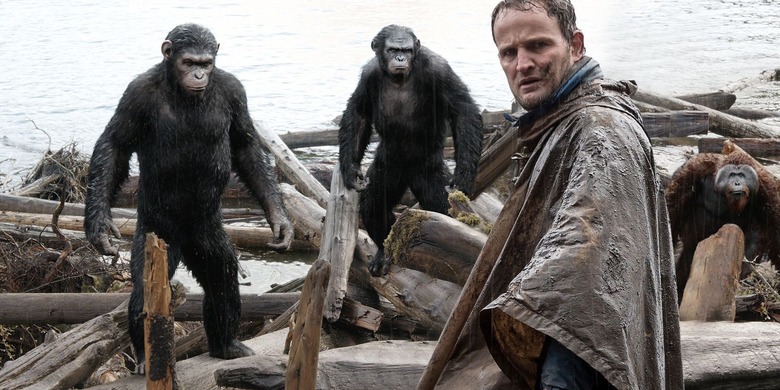 The world in War for the Planet of the Apes looks dramatically different than the one we were presented in its predecessor, Dawn of the Planet of the Apes, in which humans were just discovering that they would have to live warily alongside intelligent apes. But as tensions rose and sides were ultimately chosen in the war between humans and apes, there was hope for peace in the form of Jason Clarke's Malcolm and his family who befriended and were saved by Caesar.
However, Malcolm was not mentioned nor seen in War for the Planet of the Apes, in which the tensions between humans and apes hit its climax. But that wasn't always the case, as seen in this deleted scene from the upcoming Blu-ray and digital release of the third film in the rebooted Planet of the Apes franchise.
The fate of Malcolm, and presumably his family, is revealed in a deleted scene released ahead of the late October Blu-ray and digital release of War for the Planet of the Apes. They were killed at the hands of the Colonel (Woody Harrelson) after pleading for his army to make peace with Caesar and his tribe.
You can see the clip at Collider, but here is a brief rundown of the scene.
"He said that you were remarkable," the Colonel quietly tells a caged Caesar (Andy Serkis in his mo-cap gear, not yet rendered to an ape physique). "More than just a man...and that you were a great leader. I thought he was crazy. He pleaded with me to find you and make peace with you."
"What happened...to him?" Caesar somberly grunts.
"I shot him."
It's a tragic and bitter fate for Malcolm, who embodied one of the few sympathetic human characters throughout the Apes franchise who we left healthy and alive. To see another one of Caesar's friends lose their lives — offscreen in such an indifferent way, at that — is just heartrending. Perhaps it was right to cut the scene. Caesar had suffered enough and we had seen enough evidence of the Colonel's cruelty.
In War for the Planet of the Apes, the third chapter of the critically acclaimed blockbuster franchise, Caesar and his apes are forced into a deadly conflict with an army of humans led by a ruthless Colonel. After the apes suffer unimaginable losses, Caesar wrestles with his darker instincts and begins his own mythic quest to avenge his kind. As the journey finally brings them face to face, Caesar and the Colonel are pitted against each other in an epic battle that will determine the fate of both their species and the future of the planet.
War For The Planet Of The Apes is now available on 4K, 3D Blu-ray, Blu-ray, and DVD.