First 'Venom' Set Photo Arrives As Production Begins For This Very Real Movie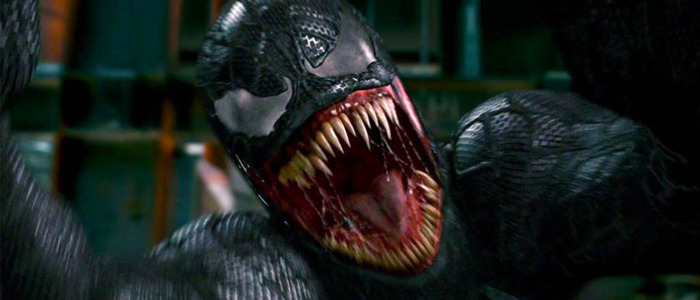 Sony has released the first set photo for Venom, the Spidey-less Spider-Man spin-off film that will reportedly kick off a whole new cinematic universe.
But star Tom Hardy is all smiles in the simple set photo, which marks the start of production for the Sony superhero film.
Hardy can be seen clearly in the first picture released from Venom, which shows the star smiling and talking to two partially obscured members of the crew. The photo was posted by the official Venom Twitter account with a caption that read simply, "Day 1."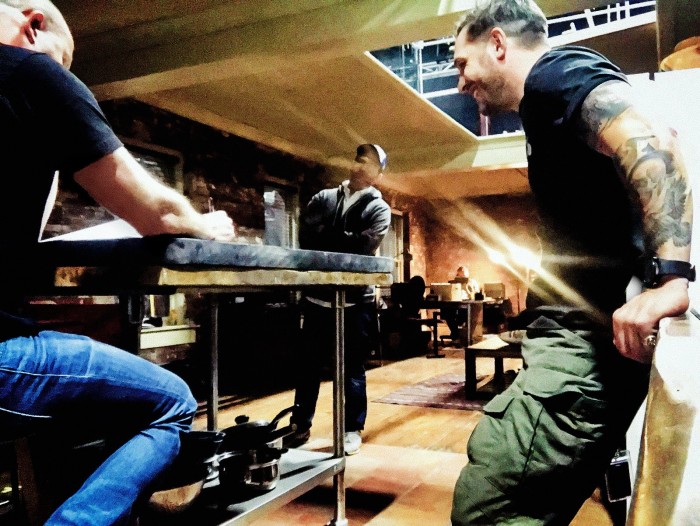 The photo does little to show us anything of the movie except for the fact that it's actually happening, which is still slightly baffling. Venom is an intriguing villain and semi-antihero to be sure — it is a extraterrestrial symbiote who merges at first with Peter Parker before latching onto rival photographer Eddie Brock, the character Hardy plays in the film. In the comics, the symbiotic goes on to partner with other hosts, including Mac Gorgon and Peter Parker's high school bully Flash Thompson, who goes on to become a full-fledged antihero and join the Guardians of the Galaxy. But Eddie Brock as Venom is, first and foremost, one of Spider-Man's most famous nemeses, which makes the absence of Peter Parker all the stranger.
And let's not forget that the last big screen appearance of Venom was not all that successful. Topher Grace first starred as Eddie Brock/Venom in 2007's Spider-Man 3, the most derided of Sam Raimi's Spider-Man movies and the film that kicked the franchise down a spiral of reboots until it finally hit gold again with Spider-Man: Homecoming. Grace was...not great as Eddie Brock, presumably only cast because of his physical resemblance to Tobey Maguire, and left audiences with a weak impression of one of Spidey's most iconic villains.
Hardy is one of the best actors working today, and could feasibly redeem this character on the big screen, but Sony's whole process toward making this movie has been confusing. Well, not that confusing, but it can't help but feel disingenuous. Sony wants to create its own cinematic universe separate from the MCU, but they can't do it with their most popular superhero character, Spider-Man, on loan to Marvel. So they pick the second most famous Spider-Man character, Venom, and center the new cinematic universe around him.
And they may well succeed. The movie boasts a prestigious cast with the likes of Michelle Williams, Riz Ahmed, Reid Scott, Jenny Slate, and Scott Haze, and is directed by Ruben Fleischer (Zombieland) with a script from Scott Rosenberg and Jeff Pinkner. If any stars can transform an outright villain into a hero and foundation for a cinematic universe, it's Hardy and this company.
Venom is set to open in theaters on October 5, 2018.