'Dora The Explorer' Movie Coming From Michael Bay And Nick Stoller, Cats And Dogs Living Together, Mass Hysteria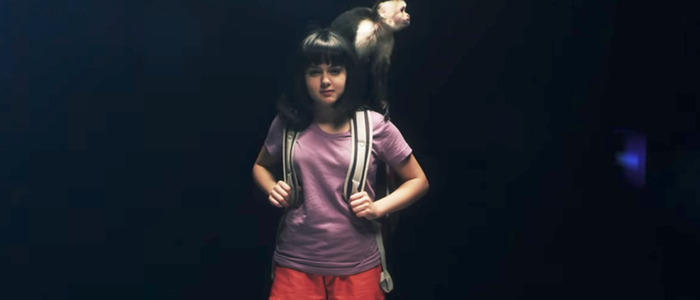 Dora the Explorer, the popular and educational animated children's television character who reigned supreme for 14 years on Nickelodeon, is about to make the leap to the big screen in a very unexpected way. Michael Bay's Platinum Dunes will produce a live-action take on the character from Forgetting Sarah Marshall and Neighbors director Nick Stoller. I'm not making any of this up, I swear to you. You can get the full Dora the Explorer movie details below.
Dora the Explorer had quite a journey, running on Nickelodeon from 2000 to 2014, airing 172 episodes featuring Dora, a 7-year-old Latina girl who went on frequent adventures with her sidekick, Boots the monkey. Dora was wildly popular, airing worldwide and inspiring a galaxy's worth of merchandise that translated to significant profits for Nick. When a show is as popular as Dora, it's only a matter of time before a big screen incarnation arrives.
A film adaptation of Dora has been in the works since at least 2015 when a live-action take on the material was announced with Puss in Boots screenwriter Tom Wheeler set to pen the film. The project eventually stalled out, but now it's back again, thanks to the master of mayhem, Michael Bay. Per THR, Bay's Platinum Dunes, the production company behind horror remakes like The Texas Chainsaw Massacre and A Nightmare on Elm Street, will produce a new live-action Dora the Explorer movie with Nick Stoller set to direct.
Details of the live-action Dora movie are scant, but THR reports that Dora will no longer be a seven-year-old girl but a teenager who moves to the city live with her cousin Diego. No release date has been set yet, but producers are hoping to debut Dora the Explorer sometime in 2019. This is all somewhat strange, and Michael Bay being involved in some capacity instantly makes one think of a Dora film filled with massive explosions and constantly spinning cameras. Hiring Stoller, who directed films like Forgetting Sarah Marshall as well as Neighbors and Neighbors 2, to helm the movie certainly hints that this will be a comedic take on the material. Stoller also has a background in family fare too, however, having written the screenplay for 2011's The Muppets and co-directed the 2016 animated film Storks. We'll have to wait and see just how the live-action Dora the Explorer film turns out. In the meantime, you can have a blast from the past and watch this live-action college humor video from 2012, which had Ariel Winter playing Dora.