Jared Leto Was Almost In 'Tron Legacy,' Promises That 'Tron 3' Is Still Happening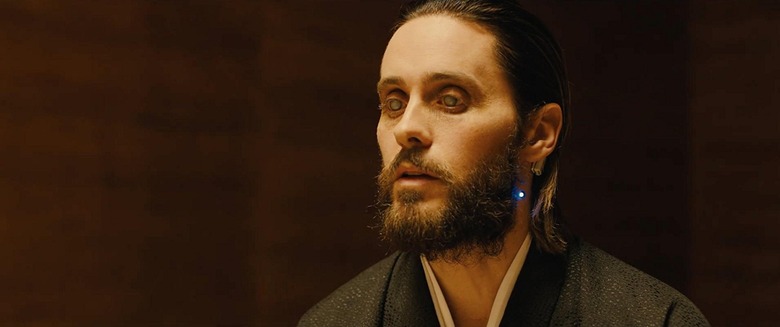 There was a crack in the code for Tron: Legacy, and it was that Tron super fan Jared Leto didn't get to appear in the sequel to the Disney cult classic. That is, according to Tron: Legacy director Joseph Kosinksi.
But that will all be remedied soon when Tron 3 finally moves along, which has had Leto attached to star for several years now. And Kosinski has an update for the tentatively titled Tron: Ascension: It could happen. Eventually.
Good news all you Tron fans, Kosinski confirmed that Tron: Ascension has finally moved beyond the ideas stage and gone on to the scripting stage. But that's as far as it has gone for now for Ascension, which is a semi-sequel and reboot of the Tron franchise that was "being built out of the source code of the deleted Tron 3 script."
But the Tron 3 script isn't the only thing being recycled for Ascension. There's also Leto himself, who Kosinski said was initially going to appear in Tron: Legacy in 2009:
"Jared and I had actually been talking about Tron since Tron: Legacy back in 2009. We almost put him in that movie, actually in [the End of Line club scene]! So Jared's a huge fan and we actually batted around ideas and I was talking to him about that role in Ascension, but we only got to the script stage on that. We never really moved beyond that and that's sort of where it sits for now."
Basically, no one knows what's happening with Tron 3, with Kosinski declaring the script a victim of Development Hell. But while the shroud of uncertainty grows thicker around Tron 3, its biggest fan Leto is still cheering it on. Leto has had unwavering patience when it comes to Tron 3, which has swung between being declared dead at Disney to being revived a year later in the form of Ascension. If Leto has had his sights set on Tron since 2009, there's no telling how long he'll wait to appear in the long gestating Tron: Ascension, which Leto teased last week is something he's still in "discussions about and very much looking forward to bringing to reality." He continued:
"[Tron] was a huge movie for me as well and I do think there's so much potential in that world, there so much left to be said. I'm absolutely game to try to help in any way that I can bring that to life."
Disney is on a roll with its massive properties like Marvel, Star Wars, and its live-action animated reboots doing gangbusters commercially (and sometimes critically). It's no wonder that the company has put its less well-received and less financial successful franchises like Tron on the backburner. The disappointing box office for Leto's last similarly-cyberpunk film, Blade Runner 2049, may also put a damper on Disney's Tron ambitions. Though maybe Disney will be reinvigorated once the anticipated Tron theme park ride opens at Walt Disney World...