'Star Trek: Discovery' Season 2 Ordered By CBS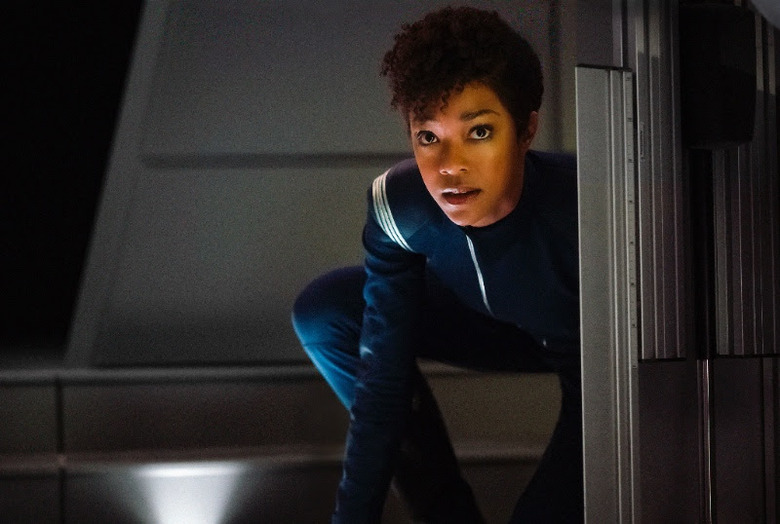 Star Trek: Discovery is boldly going on to its second season. Six episodes into its first season, CBS All Access has officially renewed the Star Trek TV series starring Sonequa Martin-Green.
But Trekkies' long wait for season 1 — which was delayed after showrunner replacements and budget issues — may be repeated come season 2, which executive producer Alex Kurtzman predicts won't hit the small screen until 2019.
President and chief operating officer at CBS Interactive Marc DeBevoise confirmed that Star Trek: Discovery has been renewed for season 2, according to The Hollywood Reporter.
Despite concerns going into the first season of Star Trek: Discovery — which had tons of expectations riding on it as the first Star Trek series to air in 12 years — the CBS All Access series has become one of the most buzzed about new shows this fall. Both Trek newbies and hardcore Trekkies alike have flocked to the series, despite it appearing exclusively on CBS' subscription service streaming platform.
Critics and our own reviewers have praised the prequel series, which takes place 10 years before the events of Gene Roddenberry's original Star Trek series, for capturing the quintessential optimism of the franchise while exploring plenty of darker, modern concepts, and it seems like viewers are responding to that. The premiere of Star Trek: Discovery set a new record for subscriber sign-ups in a single day, week and month for CBS All Access.
DeBevoise said in a statement accompanying the renewal:
"In just six episodes, Star Trek: Discovery has driven subscriber growth, critical acclaim and huge global fan interest for the first premium version of this great franchise. This series has a remarkable creative team and cast who have demonstrated their ability to carry on the Star Trek legacy. We are extremely proud of what they've accomplished and are thrilled to be bringing fans a second season of this tremendous series."
CBS All Access has not confirmed a return date or episode count for season 2, THR reports, but Kurtzman estimated that the series will "ideally" return "on the early side of 2019." Despite the unexpected success the new Star Trek has earned, it seems like the sci-fi series is still plagued by troubles, which began when original showrunner Bryan Fuller departed the series to work on his Starz series American Gods, and CBS scrapped much of his ambitious plan for the new Star Trek storyline. The series faced delay after delay, eventually premiering on CBS All Access in September 2017.
As for what's to come in season 2? Kurtzman told THR:
"We have a ... big idea that emerged mid- to late-season one for something we want to do for season two. That's now become the spine of what we want to do for season two."
Read our latest review of Star Trek: Discovery here.