Paul Thomas Anderson's 'Phantom Thread' Gets A Full Synopsis, First Trailer Coming Soon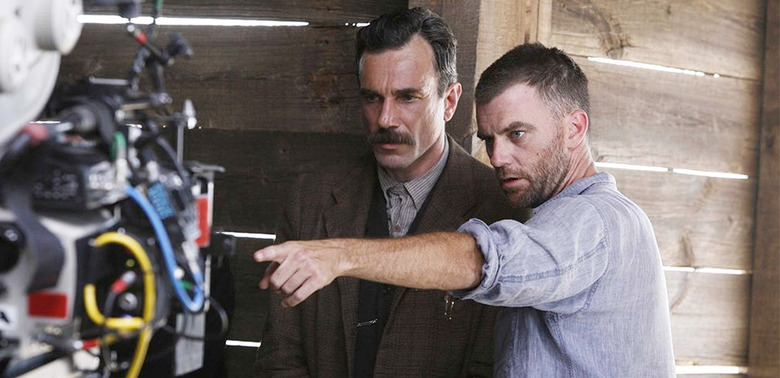 The end of this year will mark what is supposed to be the final performance from Daniel Day-Lewis in a film that reteams him with There Will Be Blood director Paul Thomas Anderson (seen together above). As we recently found out, Phantom Thread is the name of the film, and now we have an official synopsis to provide us with some insight into the story.
To find out more about the Phantom Thread movie, keep reading below.
Here's the official synopsis that comes to us from Focus Features:
Set in the glamour of 1950s post-war London, renowned dressmaker Reynolds Woodcock (Daniel Day-Lewis) and his sister Cyril (Lesley Manville) are at the center of British fashion, dressing royalty, movie stars, heiresses, socialites, debutants and dames with the distinct style of The House of Woodcock. Women come and go through Woodcock's life, providing the confirmed bachelor with inspiration and companionship, until he comes across a young, strong-willed woman, Alma (Vicky Krieps), who soon becomes a fixture in his life as his muse and lover. Once controlled and planned, he finds his carefully tailored life disrupted by love. With his latest film, Paul Thomas Anderson paints an illuminating portrait both of an artist on a creative journey, and the women who keep his world running.
That's much more information about the story and characters than we'd heard before. The Film Stage notes there have been rumors about Phantom Thread being something akin to seeing Mike Leigh (Secrets & Lies, Vera Drake) direct Fifty Shades of Grey, and the notes relationship with the character of Alma might be where that comparison comes from.
Sometime in the near future, we'll have a much better idea of what kind of movie we can expect, because the first trailer for Phantom Thread has already been classified. It clocks in at 2 minutes and 16 seconds, but we don't know exactly when to expect it just yet. More than likely it will be attached to The Darkest Hour, which hits theaters on November 24, but it could arrive online before then.
The film will be a bittersweet one if it truly ends up being the final performance of Daniel Day-Lewis. Reportedly working on Phantom Thread inspired the actor to pursue a career in dressmaking, which he fell in love with while researching the fashion industry for his work in the film. Here's hoping the performance will send Daniel Day-Lewis off with a bang.
Phantom Thread will hit limited theaters on December 25, 2017 and will expand wide sometime in January 2018.