Trailer Roundup: '24 Hours To Live', 'I Love You America', 'The Chi, Miracle On 42nd Street', 'Sweet Virginia', 'Angelica', 'Princess Cyd'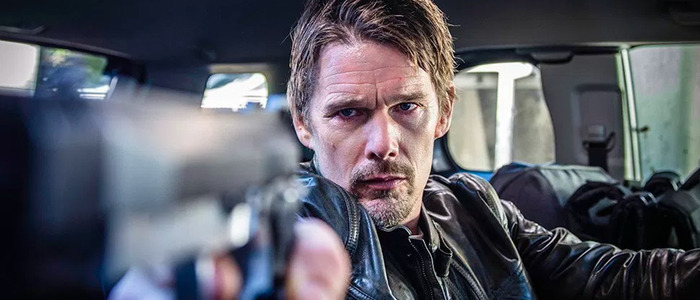 Sometimes, there are just too many trailers. It's difficult to give each one a fair shake, but it's our duty to report to you, the readers, all the entertainment news we can. And that includes trailers. So when some trailers slip through the crack, we break out the lasso and round them all up in one helpful spot. So look below for a trailer roundup of 24 Hours to Live, I Love You America, The Chi, Miracle on 42nd Street, Sweet Virginia, Angelica, and Princess Cyd.
24 Hours to Live
Ethan Hawke really is an undervalued actor. He consistently turns in great performances, but I don't often see his name thrown around when people are listing their favorite actors, or actors they consider to be "the best." Yet gosh darn it, Hawke is always committed to whatever part he plays, be it in a quiet indie drama or a bonkers genre film. 24 Hours to Live falls into the latter category, in which Hawke plays an assassin brought back to life and given a chance at redemption after being killed on the job. It sort of looks like Crank, but with Ethan Hawke. I'm 100% fine with that.24 Hours to Live also stars Xu Qing, Liam Cunningham, Rutger Hauer and Paul Anderson. It's releasing on Ultra VOD on November 3 and Theatrically Day-and-Date in LA/NY on December 1.
I Love You America
Sarah Silverman's new Hulu show I Love You America seeks unity in divided times. Silverman brings her own unique brand of humor to a series where she hopes to "connect with people who may not agree with her personal opinions through honesty, humor, genuine interest in others, and not taking herself too seriously." The very amusing trailer for the series finds Silverman singing a song that runs through what the show is going for. It may not bring people together, but it's pretty funny.I Love You America is now on Hulu.
The Chi
The very-well edited trailer for Showtime's new series The Chi follows an interconnected group of working-class African-Americans on Chicago's south side. The series was created and executive produced by Lena Waithe (Master of None), and executive produced by Common and Elwood Reid, with a cast that includes Jason Mitchell, Jacob Latimore, Ntare Guma Mbaho Mwine, Alex Hibbert, Yolonda Ross, Armando Riesco and Tiffany Boone. Per Deadline, the series focuses on Kevin (Hibbert), a "pre-teen who must step past shattered illusions and embrace the normal rites of childhood, while Brandon (Mitchell) the dreamer makes his own nearly impossible leap of faith to succeed in life and love with girlfriend Jerrika (Boone). Emmett (Latimore) is the carefree teen is thrust into complex responsibility with guidance from his mother Jada (Ross), and Ronnie (Mwine) is the drifter whose struggle to love and be loved calls into question his every pursuit. Sonja Sohn, Jahking Guillory, and Steven Williams recur."
The Chi premieres January 7, 2018.
Miracle On 42nd Street
Indiewire has the exclusive first look at the documentary Miracle on 42nd Street. The doc chronicles the story of The Manhattan Plaza, an apartment complex several artists in New York called home in the 1970s. Residents include Alicia Keys, Terrence Howard, Giancarlo Esposito, Larry David, Samuel L. Jackson, Angela Lansbury, and Estelle Parsons, who all appear in the film. The documentary chronicles the beginning of the renissance of time square, which was a much different place in the 70s than it was today. Per the official synopsis, "the story recounts how – in a moment of bold inspiration or maybe desperation – the buildings were "re-purposed" as subsidized housing for people who worked in the performing arts, becoming one of the first intentional, government supported, affordable housing for artist residences."Miracle On 42nd Street will have its World Premiere at DOC NYC on November 11, 2017.
Sweet Virginia
Jon Bernthal seems like one of those really good actors who has yet to break out in as big a way as he deserves. He has The Punisher coming up on Netflix soon, and he also has this film, Sweet Virginia. Directed by Jamie M. Dagg, Sweet Virginia finds Bernthal playing an ex-rodeo rider who falls into an unexpected friendship with the quirky Elwood (Christopher Abbott). What Bernthal's character doesn't know is that Elwood is a contract killer. Sweet Virginia looks like an interesting indie that doesn't easily fit into any genre box, which makes it all the more compelling.Sweet Virginia opens in theaters and VOD November 17, 2017.
Angelica
Sexual repression leads to the paranormal in Angelica, a new film from Mitchell Lichtenstein, director of Teeth. Jena Malone plays a young woman in Victorian London who finds herself prescribed abstinence by her doctor after the life-threatening birth of her daughter. This unexpectedly leads to a possibly ghostly presence in the home Malone shares with her husband. Malone's character reaches out to a spiritualist named Anne Montague, but Anne's presence in the home only makes things more complicated. Plainly speaking, this looks wonderful.
Angelica opens November 17, 2017.
Princess Cyd
In Stephen Cone's Princess Cyd, 16-year-old Cyd Loughlin (Jessie Pinnick) visits her aunt in Chicago for the summer. The trip leads to an unexpected romance with another girl from the neighborhood. The film chronicles the events of the summer, as Cyd deals with both her budding romance and her complicated relationship with her aunt (played by Rebecca Spence). This is a fairly low-key trailer, but it hints at a potentially exciting new indie film that will stand out from the standard art house fare.
Princess Cyd opens November 3, 2017.