Why A Key 'Thor: Ragnarok' Location Was Changed, According To Director Taika Waititi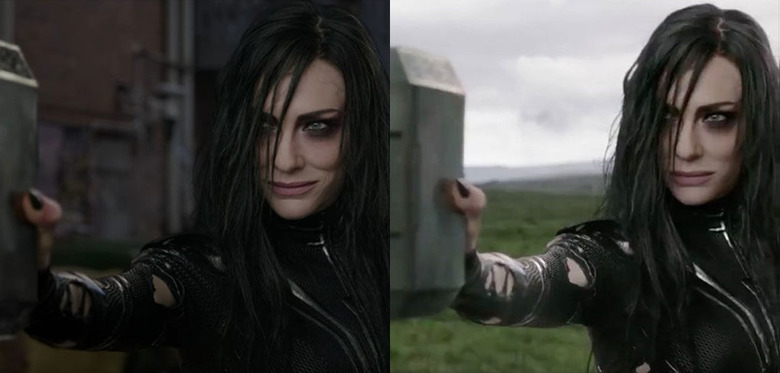 Fair warning: I'm going to spend this article talking about something that happens in the Thor: Ragnarok trailers and how that aligns with what happens in the final movie. It's not a world-shattering revelation, but if you've avoided all of the trailers thus far and would prefer to know nothing about the movie at all before seeing it, here's your opportunity to bounce to the next article.
There's a moment in the Ragnarok trailers in which Hela, the leather-clad villainess played by Cate Blanchett, catches Thor's hammer (good old Mjolnir) out of the air and destroys it with her bare hand. It's a symbol of her tremendous power, and a sign that she's not to be trifled with. But in one trailer, this confrontation happens in an alleyway, and in a more recent video, the scene takes place in a grassy field. We've actually written about this before, but now director Taika Waititi has explained the reasoning behind changing that Thor Ragnarok reshoot.
In an interview with Digital Spy, Waititi was asked why he decided to change the filming location of this scene, which happens very early in the movie:
"Here's the thing: alleyways aren't cool and fields are cool, all right? Ask anyone."
After kidding around for a second, Waititi revealed the real answer to the question (which, again, features some very small spoilers):
"Everything up until then had been so fast-paced and all over the place, we wanted to go somewhere peaceful and chill out with those characters, and be with Odin while he imparts this wisdom and not have to hear stupid yellow cabs in the background.
It just felt like a terrible environment to have a scene which could be very emotional for what happens with Odin and the boys, the first time we've seen the three guys together and him telling them he loves them. It was very important for us just to be in a beautiful, peaceful environment."
Early set photos indicated that Odin would be dressed up as a homeless person in New York City, but as Waititi explains, the final movie ended up revamping that section of the film so Thor and Loki could enjoy some peace during their reunion with their father instead of dealing with the distractions of city life in the background. As we previously pointed out, Chris Hemsworth's personal trainer Luke Zocchi posted a photo on Instagram during the movie's built-in reshoot time featuring the new location:
#TBT Standing on set in Atlanta holding weights and acting like they're not heavy.... it's what I do for a living ???????????????????? #set #life #Atlanta #jetlag #when #in #doubt #get #dumbbells #out #health #fitness
So there you have it: mystery solved.
Thor: Ragnarok arrives in theaters on November 3, 2017.