'The Dark Tower' TV Series, Which Is Apparently Still Happening, Will Be A Complete Reboot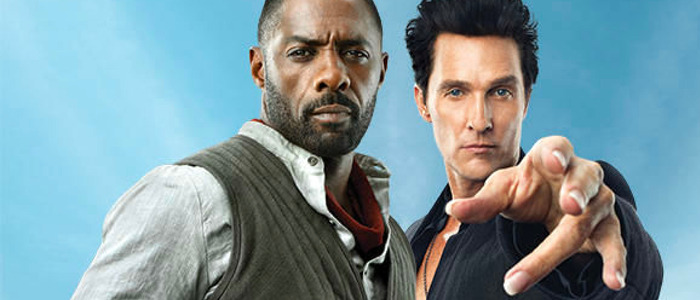 Remember when The Dark Tower came out several years ago? Okay, it was actually only a few months, but it feels like an eternity, especially because the film was such an overall disappointment. Fans who had been waiting forever to see Stephen King's epic fantasy series leap to the big screen were heartbroken with the results, and the film barely broke even, taking in about $111 million at the worldwide box office. Despite this disappointment, a Dark Tower TV series is apparently still in the works. And perhaps because of these disappointments, it's going to be a complete reboot.
I'm guessing most Stephen King fans would like to forget all about The Dark Tower movie that came out earlier this year. The big screen adaptation of King's popular fantasy novel series had no concept of what made those books memorable, and instead watered the complex mythology down into a dull, boring slog that not even the charismatic Idris Elba could save. Instead of being treated to a well-thought-out realization of King's books, audiences were instead subject to the sight of Matthew McConaughey evilly cooking up some chicken.
Despite the financial and critical disappointment of The Dark Tower (it currently sits at 15% on Rotten Tomatoes), there are still plans to turn King's books into a TV series. The original idea was for the series to continue what the film started, with Dark Tower film director Nikolaj Arcel heavily involved with the project. Back when The Dark Tower hit theaters, Arcel said of the show:
"It's being written. I was part of writing the pilot, like the first season ideas and the pilot and the second episode. It's gonna be awesome. What was exciting about that, whereas with the film, we were really trying to create an introduction and make a standalone film that could sort of live in itself, but what was also exciting, working on the TV show at the same time, is that is totally canon."
Arcel makes it sound as if the show would still at least have some connection to the film, but that many no longer be the case. Sitting down to talk with Vulture, Stephen King revealed that if and when we see a Dark Tower series, it'll be a complete reboot:
"The major challenge was to do a film based on a series of books that's really long, about 3,000 pages. The other part of it was the decision to do a PG-13 feature adaptation of books that are extremely violent and deal with violent behavior in a fairly graphic way...That was something that had to be overcome, although I've gotta say, I thought [screenwriter] Akiva Goldsman did a terrific job in taking a central part of the book and turning it into what I thought was a pretty good movie. The TV series they're developing now...we'll see what happens with that. It would be like a complete reboot, so we'll just have to see."
The Walking Dead showrunner Glen Mazzara has been hired to oversee the Dark Tower TV show, but who knows if, and when, we'll see it. While the film was a disappointment, King's work is more popular now than ever. That, plus the combination of the built-in fanbase for the books, may be enough to get The Dark Tower TV series off the ground.