'Stranger Things' Season 2 Clips Put You In The Halloween Spirit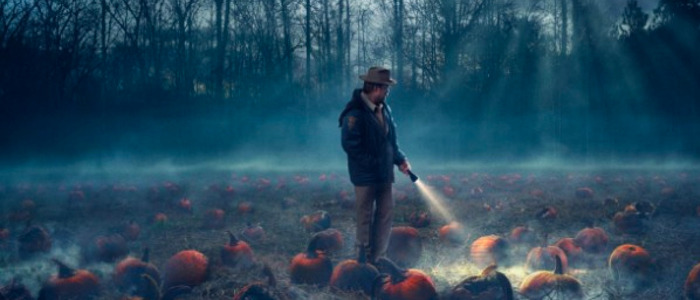 Stranger Things season 2 is a week away from arriving on Netflix, and the promotional machine is going into overdrive. As fans anxiously wait to return to Hawkins, Indiana, two new promotional looks at Stranger Things 2 have arrived to tease what's to come. If you're worried about spoilers, fret not – as has been the tradition with previous Stranger Things promos, these are vague enough to keep you in suspense. See the Stranger Things season 2 clips below.
A little over a year ago, most people had no idea what Stranger Things even was. It seemingly came out of nowhere and went on to became a huge cultural touchstone. The new season is hitting Netflix in a week, and the hype and anticipation are through the roof. But despite a few trailers, we still don't really know a whole lot about what's going to happen in season 2. Two new promo videos have arrived to give us some more looks at the new Stranger Things season, but don't expect them to blow the lid off of any big secrets. They're both vague and mysterious enough to keep fans guessing.
uᴉ ǝunʇ pic.twitter.com/9q1oqrJdc3

— Stranger Things (@Stranger_Things) October 20, 2017
In a clip posted on the Stranger Things Twitter account, we're treated to a nostalgic bit of channel surfing, transporting us back to 1984, the setting of season 2. There's a lot of lip service paid to Palace Arcade, which hints that the location may pay a very big part in season 2. There's also multiple mentions of the arcade game Dig Dug, which lends its name to the title of one the season 2 episodes. What could it all mean? The objective of the game was to  eliminate underground-dwelling monsters, which could certainly hint at plot point. All the channel surfing gives way to a news story about a local pumpkin patch where all the pumpkins have been found rotted. David Harbour's Hopper shows up in the clip as well. The clip ends with a "Science Minute" from Mr. Clarke, science teacher to the intrepid heroes of Stranger Things. All in all, this is a nice bit of nostalgia, recalling the channel surfing of Halloween III: Season of the Witch, the best of the Halloween sequels. That film ends with a bit of dramatic channel changing that may have deadly consequences.
Stranger Things Season 2 clip
The other clip gives us our first look at new character Billy, played by Dacre Montgomery (Power Rangers). It's a quick clip that shows Billy playing basketball against recurring character Steve Harrington (Joe Keery). The clip premiered during an interview with Montgomery on Studio 10. The most interesting element of this clip is the role reversal: in season 1, Steve was a bit of a bully; your prototypical jerk boyfriend character. In this clip, Billy clearly has the upper hand and seems quite adept at putting Steve in his place.
What could all these reveals mean? We'll find out for sure when Stranger Things season 2 hits Netflix on October 27, 2017.