'Hellboy' Cast Adds Sophie Okonedo, Brian Gleeson; Scott Haze In Talks For 'Venom'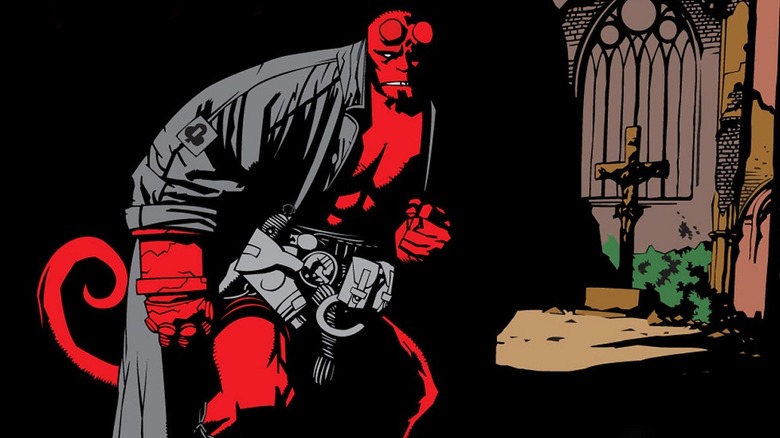 While superhero movie casting news can be flooded with Marvel and DC, let's not forget the heroes fighting crime on the fringe.
Lionsgate's Hellboy and Sony's Venom continue fleshing out their impressive cast lists, with the former casting three key roles, and the latter keeping their newest cast member in a haze of mystery. Both movies are expected to be released in 2018.
Hellboy Adds Three Key Roles
Hellboy has cast Sophie Okonedo, Brian Gleeson, and Alistair Petrie in three key roles, according to Deadline. "Okonedo will play Lady Hatton, a resident seer at the Osiris Club, an ancient English club dedicated to uncovering supernatural mysteries," Deadline writes, while "Petrie is playing Lord Adam Glaren, a high-ranking member at the club," and Gleeson will play "Merlin, a wizard."
Okonedo is no stranger to the sci-fi or supernatural genre, making a few memorable appearances in Doctor Who in 2010 as the gun-toting Liz 10. Gleeson is the son of Brendan Gleeson and brother of Domhnall Gleeson, appearing recently in Mother! as — who else? — Domnhall's brother. Petrie played General Daven in Rogue One: A Star Wars Story.
The Hellboy cast already boasts David Harbour as the title hero and Milla Jovovich as the Blood Queen, the villain of the horror-inspired remake. Rounding out the cast are Ian McShane, Penelope Mitchell, and Daniel Dae Kim, who joined the film as Japanese-American character Ben Damio after whitewashing backlash against the intially cast Ed Skrein caused the actor to step down — a small triumph for diversity in Hollywood.
Harbour takes on the role after Ron Perlman donned the red suit and horns for two movies in Guillermo del Toro's fantastical versions. However, director Neil Marshall, who has made his mark with horror films like The Descent, has received Hellboy creator Mike Mignola's blessing to remake the Dark Horse Comics hero in a grim, horror-inspired light, akin to the twisted nature of the comics.
While all we've seen of the film so far is Harbour in costume as the scarred antihero, Hellboy is expected to be released in theaters sometime in 2018.
Venom Casts a Hazy Mystery Character
Meanwhile, Venom continues to fill out its cast of superstars, this time with a lesser known actor in a mystery role. Scott Haze is in talks to play an unknown character in Venom, the Sony Spider-Man spin-off starring Tom Hardy that is intended to kick off a cinematic universe sans the webbed warrior.
Haze, who appeared with Miles Teller in the war drama Thank You for Your Service, has joined the cast, according to The Hollywood Reporter.
Though Haze is not as huge a name as the previously cast stars — Hardy, Michelle Williams, Riz Ahmed, Jenny Slate — he adds another layer of intrigue to this strangely prestigious movie, and the air mystery certainly helps. Who will he play? The kneejerk reaction question is "Could he be playing Carnage, Venom's longtime adversary?" We'll find out as we move closer to Sony's planned release date for Venom: October 5, 2018.