'Stranger Things' Season 2 Soundtrack Now Streaming On Spotify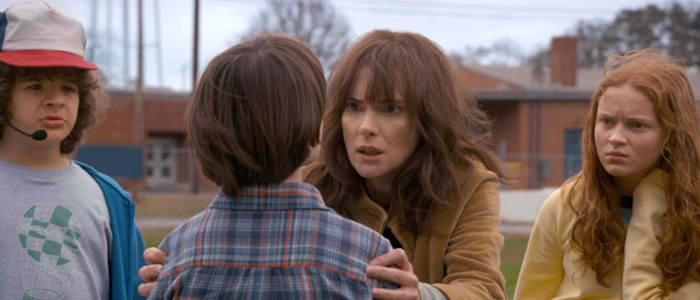 Want some mood music to play while you tinker with your Halloween costume or carve your last pumpkin? Never fear, the Stranger Things season 2 soundtrack is here. And on Spotify!
The brooding, synth-heavy score debuted one of its main themes earlier this month, but the soundtrack was, until now, only available for purchase digitally on Invada and Lakeshore. But it looks like that veil of exclusivity has been dropped, and every Stranger Things fan can stream the season 2 soundtrack.
S U R V I V E members Kyle Dixon and Michael Stein, who scored the John Carpenter-esque Stranger Things theme and soundtrack from the first season, are back for season 2. While the preview of "Walkin' in Hawkins" implied that we could expect much of the same sounds in season 2 — though perhaps with a more upbeat, poppier vibe — Dixon and Stein told Pitchfork:
"In Season 2 we're introducing new styles of composition, while still revisiting old themes when appropriate. We've created new elements that are necessary to support the story, but still want to remain true to the sound of Season 1."
Now you can see for yourself what they mean, with the entire soundtrack available for streaming on Spotify.
The soundtrack is also available on Apple Music, which offers a special Halloween bonus album.
Dixon and Stein will perform the full score for the first time at Los Angeles' The Theater at Ace Hotel on November 8, 2017, shortly after season 2 premieres on Netflix on October 27, 2017. The soundtrack is now available for purchase digitally on Invada and Lakeshore. CD, vinyl, and cassette releases will be announced later.
So while you may not be able to rock a cassette of the Stranger Things costume just yet to go with your Eleven costume, you can at least bump the soundtrack at your Halloween party — or pop-up bar.
Here's the synopsis of Stranger Things season 2:
Stranger Things 2 is set a year after Will's return, and everything seems back to normal... but a darkness lurks just beneath the surface, threatening all of Hawkins. It's 1984 and the citizens of Hawkins, Indiana are still reeling from the horrors of the demagorgon and the secrets of Hawkins Lab. Will Byers has been rescued from the Upside Down but a bigger, sinister entity still threatens those who survived.
Season 1 cast members Winona Ryder, David Harbour, Finn Wolfhard, Millie Bobby Brown, Gaten Matarazzo, Caleb McLaughlin, Natalia Dyer, Charlie Heaton, and Joe Keery are all returning for the second season. They'll be joined by new cast members Sean Astin, Paul Reiser, and Sadie Sink.