'Star Wars: The Last Jedi' NYCC Stunt: Is This What Star Wars Land Will Be Like?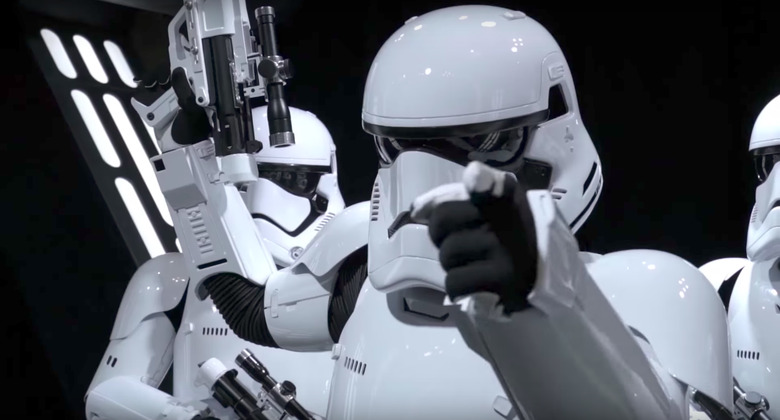 Although Star Wars: The Last Jedi didn't host a panel at New York Comic-Con, the booth that Lucasfilm set up may offer an even more exciting glimpse at what's to come for the series.
The Star Wars: The Last Jedi "Experience" took place in the NYCC booth and was made to replicate a set from the movie. While at first it looked like fans could just mill about looking at props from the film and read informational panels about the new Resistance blasters, the "Experience" soon lived up to its name. Fans were suddenly caught in the middle of a brief skirmish between the Resistance and the First Order in an interactive event that certainly looks like a test run for the upcoming Star Wars theme park land.
The installment was the object of much anticipation at New York Comic-Con earlier this month, with fans flocking to see the collection of props and teasers for Star Wars Episode VIII. But there was more to the booth than met the eye: several fans were picked at random to have their photos projected on the displays around the booth, labeled as Resistance spies.
Lucasfilm released a video recap of the interactive event.
Star Wars The Last Jedi NYCC Experience
In the video recap, Stormtroopers entered through a door in the booth, demanding to know where the spies were. Soon the game was afoot, with other Resistance members appearing to spirit away the chosen fans, while BB-8 rolled about. A Kylo Ren appearance and one very cool Force choke effect later, and you've got the makings of Star Wars Land.
The best part of this video are the whoops and gasps from the crowd when they realize they're part of a simulation — the laughs when Kylo Ren dramatically enters probably wasn't what the actors in the installment predicted, but, oh well. But this was possibly a way for Lucasfilm to test some concepts for the Star Wars land opening in a few years, now called Star Wars: Galaxy's Edge. Opening at both Disneyland in California and Walt Disney World in Florida, the Star Wars Lands plan to offer even more interactive experiences: Fans can join the Resistance, work as a bounty hunter or smuggler, or even join the First Order.
The Star Wars Experience at NYCC probably won't be an exact prediction of the offerings at Star Wars: Galaxy's Edge, but it showed Lucasfilm and Disney's commitment to the quality of the experience: the stunts, the force choke, the actual BB-8 robot rolling around on the floor. If they broke out these impressive effects for a booth at New York Comic-Con, who knows what they have in store for an actual theme park?