Morgan Spurlock Directed An Hour-Long 'Simpsons' Mockumentary In Honor Of 'Homer At The Bat'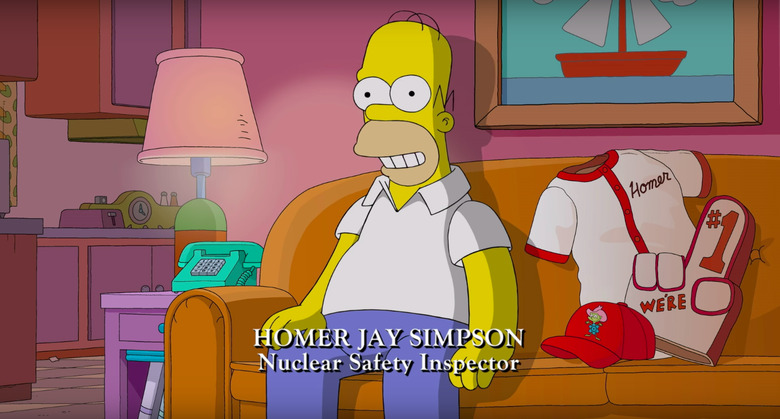 The Golden Age of the The Simpsons may be long gone, but far be it from the long-running Fox animated series to remind us of the glory days.
The latest reminder comes in the form of a mockumentary directed from Super Size Me director Morgan Spurlock in honor of one of The Simpsons greats: "Homer at the Bat." Believe it or not, it's been 25 years since that episode first aired, and The Simpsons is going above and beyond to celebrate its anniversary.
On February 20, 1992, Mr. Burns ordered Smithers to recruit the greatest softball team ever seen to compete against a rival nuclear power plant's team. Ken Griffey, Jr., Roger Clemens, Wade Boggs, Don Mattingly, and other MLB heavyweights padded this star-studded team, but it would ultimately be the dopey Homer Simpson who would earn the title of MVP at the end of the day. The season 3 episode "Homer at the Bat" has stood the test of time as one of The Simpsons' classic episodes, establishing the series as the gold standard of Fox comedy and later memorialized in the National Baseball Hall of Fame, which "inducted" Homer into its hallowed halls.
But the most flattering treatment that an episode could get is a Ken Burns documentary. Since Burns was probably busy, The Simpsons got the next best thing: Morgan Spurlock. The Super Size Me filmmaker directed an hour-long mockumentary episode titled "Springfield of Dreams: The Legend of Homer Simpson," which combines animated clips and interviews with real-life talking heads in a spoof of a Burns-style documentary.
Here's the synopsis for the Morgan Spurlock Simpsons mockumentary episode:
A satire of Ken Burns' epic documentary, "Baseball," the special features interviews with eight Major League Baseball players appearing in the original episode, along with baseball historians, sportscasters, and iconic personalities, such as FOX Sports' Joe Buck, sports announcer Bob Costas, author George Will, Dr. Oz, fashion consultant and television personality Tim Gunn and New York City Mayor Bill De Blasio. Current Yankee slugger and Major League Baseball AL MVP candidate Aaron Judge also appears in the special.
"Springfield of Dreams: The Legend of Homer Simpson" airs Sunday, October 22, 2017 before or after the afternoon games, depending on where you live. That will be approximately at 3 p.m. ET (for markets with an NFL game at 4:05 p.m. ET) and at 4:30 p.m. ET (for markets with an NFL game at 1 p.m. ET).