'I, Tonya' Teaser Trailer: Margot Robbie Spins The Truth As The Controversial Tonya Harding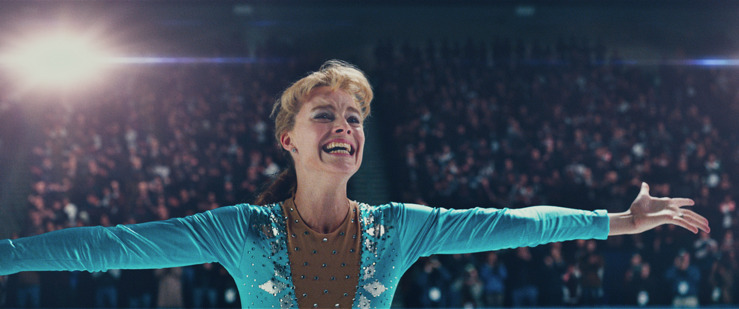 Margot Robbie goes for gold in her performance as the disgraced figure skater Tonya Harding in I, Tonya.
The darkly humorous, slightly irreverent take on the Olympics story that took over gossip rags everywhere in the '90s, I, Tonya tries to get to the "truth" of the stranger-than-fiction tale of an accomplished skater who — alongside her ex-husband Jeff Gillooly (Sebastian Stan) — was accused of plotting an attack against her competitor Nancy Kerrigan (Caitlin Carver). But is truth really all that important, asks the new teaser trailer for I, Tonya?
Watch the I Tonya Trailer
/Film's own Chris Evangelista, in his I, Tonya review from the Toronto International Film Festival last month, praised the film for balancing its irreverent tone with a humanizing sadness, writing:
Craig Gillespie's I, Tonya trades in gossip, but it also wants to get to the truth. The truth that many people probably don't even know. For most people, Tonya Harding is little more than a punchline. I, Tonya wants to remind you she's also a person.
But the teaser concentrates on that irreverent tone first, featuring Robbie — with slight hillbilly accent — narrating, "America. They want someone to love. But they want someone to hate. And the haters always say, Tonya, tell the truth," over shots of Tonya performing that famous triple axel, the famous beating, a mustachio'd Sebastian Stan losing his temper, and paparazzi accosting the bleary-eyed skater.
But just as the teaser threatens to become dark and reflective, Tonya says matter-of-factly, "There's no such thing as truth, I mean it's bullshit." That, and the hard cut to a riot grrl pop-rock song doubles down on the movie's tongue-in-cheek tone, a far cry from the ESPN's alarming documentary film on the same subject, The Price of Gold.
Here's the official synopsis for I, Tonya:
Based on unbelievable but true events, I, TONYA is the darkly comedic tale of American figure skater Tonya Harding and one of the most sensational scandals in sports history. Though Harding was the first American woman to complete a triple axel in competition, her legacy has forever been defined by her association with an infamous, ill-conceived and worse-executed attack on fellow Olympic competitor Nancy Kerrigan. Featuring an iconic turn by Margot Robbie as the fiery Harding, a mustachioed Sebastian Stan as her impetuous ex-husband Jeff Gillooly, a tour-de-force performance from Allison Janney as her acid-tongued mother LaVona Golden, and an original screenplay by Steven Rogers, Craig Gillespie's I, TONYA is an absurd, irreverent, and piercing portrayal of Harding's life and career in all of its unchecked––and checkered––glory.
I, Tonya is set to open in select theaters in New York and Los Angeles on December 8, 2017.