Now Stream This: More Of The Best Movies To Stream For The Halloween Season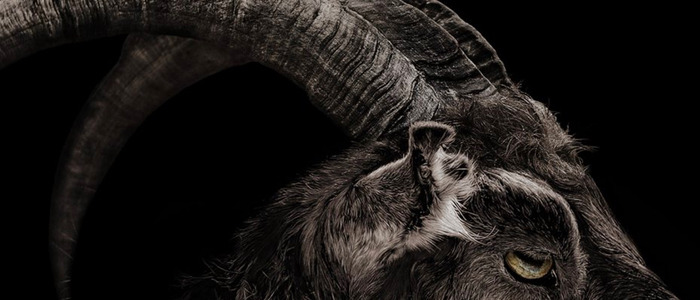 (Welcome to Now Stream This, a column dedicated to the best movies streaming on Netflix, Amazon, Hulu, and every other streaming service out there.) 
Holy Great Pumpkin, folks, Halloween just a little bit over a week away! Time is running out, so if you haven't pieced together your costume for the year or carved several season gourds yet, you better get cracking! All Halloween-related activities are best paired with either a spooky mix tape featuring songs about monsters mashing, or a bunch of scary movies. I've got you covered on the latter!
Yes, I've compiled yet another Halloween-themed edition of Now Stream This, with some fine fright flicks you can stream this festive season. It's a bit of an eclectic list, with straight-up horror, horror comedy, classics, slow burns, new stuff, and more. I've plumbed the depths of the Halloween streaming pit and come back with these morsels of candy corn. It's time for The Best Movies Streaming Right Now! So let's get streaming.
Now Streaming on Shudder
Shudder, the good eggs that they are, went ahead and put a whole plethora of classic Universal monster movies on their service this week. Dracula, Frankenstein, The Wolf Man, they're all there, and more! Sadly, Tom Cruise's Mummy movie doesn't make an appearance, so if you're hoping for something like that, might I advise sticking your face into a bag of garbage? While the majority of the Universal classics Shudder has made available are all worth watching, the best of the bunch is James Whale's 1935 classic Bride of Frankenstein. Whale's sequel to his own Frankenstein is funnier, better made, and way ahead of its time, full of not-so-hidden "subversive" elements that would make the movie censors of 1935 drop their monocles into champagne flutes had they caught them all. Boris Karloff's Monster is back, and he wants a mate, which he gets in the form of Elsa Lanchester's glamorous, tall-haired hissing bride.
For fans of: Frankenstein, The Old Dark House, Gods and Monsters, the Frankenstein Monster smoking a cigar.
Now Streaming on FilmStruck
Guillermo del Toro's feature debut is this wicked twist on the vampire story. An elderly antiques dealer (Federico Luppi) discovers a scared-shaped golden trinket that has the power to grant immortality, as long as you're willing to shed a little blood. Cronos is unlike any other vampire film you've ever seen, and it's an early indication of how great del Toro would go on to become. The filmmaker balances both humor and horror, crafting a haunting, memorable take on the woes of eternal life. Added bonus: Ron Perlman having the time of his life as a complete jerk who wants to get his hands on that gold scarab, consequences be damned.
For fans of: Blade II, Hellboy: The Golden Army, Near Dark, licking blood off the floor.
Now Streaming on Amazon Prime Video
Robert Eggers' The Witch caused quite a stir when it was released in 2016, for two particular reasons: one, it was great and people went crazy for it; and two, some people hated it and protested that it was not a horror movie. First thing's first: this is absolutely a horror movie, and if you disagree, I'm not sure what strange concept of "horror" you have, but...it's wrong. That said, I can see why some people wouldn't care for The Witch – it is a very slow-burn horror film, and some folks have no time for that. That's fine. The rest of us, however, can bask in the creepy brilliance that is this film, which is sort of like a Puritan remake of The Shining. And I'd be remiss if I didn't mention the real star of the film: Black Phillip, the most charismatic goat to ever grace the silver screen. This chilly, autumnal horror flick is perfect for late-night Halloween watching, so turn it on and live deliciously.
For fans of: The Shining, The Blair Witch Project, Mark of the Devil, the taste of butter and a pretty dress.
Streaming on Netflix 10/20
In case you hadn't noticed, there's a bit of a Stephen King adaptation renaissance going on right now. Film and TV versions of the prolific horror writer's works are popping up everywhere, and in the wake of the box office smash that was It, expect to see even more of that. In the meantime, Netflix – who recently released another King adaptation, Gerald's Game – also has 1922. Adapted from a novella by the same name, 1922 is sort of like Edgar Allan Poe meets John Steinbeck. A poor farmer (Thomas Jane) decides to murder his wife with the help of his son in order to inherit the land she owns. Father and son get away with the crime, but man, guilt can be a killer. Enter ghosts and copious amounts of rats. 1922 may not be the most nuanced of King adaptations, but it's plenty creepy.
For fans of: The Green Mile, The Grudge, The Woman in Black, Tom Jane always talkin' through his teeth.
Now Streaming on Netflix
"A TV show? But I thought this was a movie list!" you might be saying right about now. Listen, friendo, this is my streaming column and I'll do what I want with it. Besides, Penny Dreadful, which ran for three seasons on Showtime, deserves all the love it can get. This show was criminally under-watched when it aired, which is a damn shame, because it's one of the best horror shows to ever flicker across the small screen. This is the type of horror show that deserves a devoted following, not junk like American Horror Story. Alas, it was not to be. This gothic delight takes characters from literature, like Dr. Frankenstein, Dr. Jekyll, Dorian Gray, and more, and combines them all into a lush, beautiful show about monsters and people who are worse than monsters. At the center of it all is the amazing Eva Green, who practically glides through every scene as if she were floating on air, and looking incredible doing it. Creepy, sexy, sad and masterfully directed, Penny Dreadful deserves to be rediscovered again and again. You can probably binge through it all in one weekend, and you won't regret it.
For fans of: Bram Stoker's Dracula, The League of Extraordinary Gentleman (the comic, not the movie, ugh), Crimson Peak, Eva Green being goth as hell.
6. What We Do In the Shadows
Now Streaming on Amazon Prime Video
I've decided to give you a breather and add something fun to the list as well. Not all horror needs to be straight-up dread-inducing. What We Do in the Shadows, a mockumentary from Jemaine Clement and Thor: Ragnarok director Taika Waititi, peels back the curtain on the secret lives of vampires. Oh, and it's funny as hell. This might be one of the funniest films in recent memory, and it's filled with clever little moments that both pay tribute to and send-up classic horror. The only complaint I have with this film is that it's a bit too episodic, feeling more like a few TV episodes pieced together rather than a feature film. But that doesn't really matter when the results are as delightful as this.
For fans of: American Werewolf in London, Fright Night, Shaun of the Dead, werewolves, not swearwolves.
Now Streaming on Hulu
Some people grew up loving The Goonies. For my money, though, the best film about a group of foul-mouthed kids banding together to embark on an adventure is Fred Dekker's 1987 flick The Monster Squad. With a script co-written by The Nice Guy's Shane Black, The Monster Squad is a funny, spooky, frequently vulgar horror-comedy that pits a group of grade schoolers against Dracula, The Wolfman, The Creature From the Black Lagoon and the Mummy. Along the way, they team up with the friendly Frankenstein Monster. It's an absolute hoot, and it features some surprisingly dark stuff for a movie that was marketed towards families.
For fans of: E.T., It, Stand By Me, fighting off Dracula with a slice of pizza.
Now Streaming on Shudder
Ever wonder where urban legends come from? Stuff like the tale of the man who put razor blades in apples on Halloween, or the story about the babysitter getting menacing phone calls that are coming from inside the house? This documentary from Joshua Zeman and Rachel Mills explores those legends, and more, in an informative, fun way. Perhaps too fun; there are times when the filmmaker's methods seem to be dangerously close to being unethical. Still, for people obsessed with creepy "true" stories, Killer Legends will be an enjoyable ride.
For fans of: Unsolved Mysteries, Cropsey, razor-blade free apples.
Now Streaming on FilmStruck
Look, I don't have to say that much about this movie, right? I just have to tell you it features a scene where a guy's head explodes on camera, and it looks so insane and real that you want to go back and rewind it and rewatch it in slow motion, right? David Cronenberg's 1981 thriller Scanners can never quite live up to its opening mind-blowing scene, but it's still a solid film, featuring one hell of a performance from Michael Ironside as the guy who is really good at making people's head's explode. And since it's on FilmStruck, you get a wealth of special features that were included with the Criterion Collection Blu-ray release.
For fans of: Videodrome, The Brood, The Mind's Eye, fake rubber heads blowing up.
Now Streaming on Hulu
As far as horror remakes go, this 2009 remake of the 1981 slasher My Bloody Valentine is enjoyable. The original isn't exactly what I'd call a classic, but it has a gritty charm that sets it apart from most other slashers. This remake finds Supernatural's Jensen Ackles returning to his home town, where a massacre on Valentine's Day took the lives of 22 people ten years ago. As bad luck would have it, similar killings are happening in town again, and Ackles finds himself a prime suspect. My Bloody Valentine was shot in 3D, so there are a ton of scenes where stuff like pick axes and jawbones come flying directly at the screen. It's silly, but that's part of the charm. If you want a fun, dumb slasher for Halloween season, this is your flick.
For fans of: My Bloody Valentine (1981), I Know What You Did Last Summer, The Boogens, Tom Atkins showing up and grumbling at people.