'12 Strong' Trailer: Chris Hemsworth Hunts The Taliban In The Aftermath Of 9/11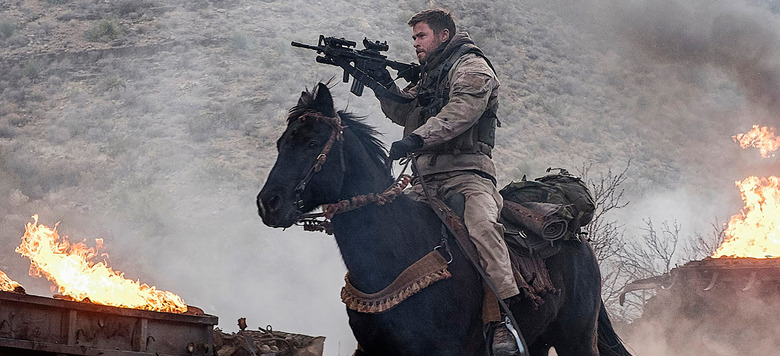 We may receive a commission on purchases made from links.
Though fans are gearing up to see Chris Hemsworth take on Hulk in the upcoming Marvel Studios sequel Thor: Ragnarok, he'll be taking on a much more realistic threat in an upcoming war drama arriving early in 2018.
12 Strong, formerly known as Horse Soldiers, finds Chris Hemsworth as part of a U.S. Special Forces team tasked with being sent into Afghanistan in the aftermath of 9/11 on a mission to track down the terrorists who were behind the ruthless attacks on the United States in 2001. In order to effectively track down the Taliban and Al Qaeda terrorists, they must align themselves with local Afghani soldiers, even though that means being outgunned and outnumbered. Check out the first 12 Strong trailer to get a peek at the new military drama.
Watch the 12 Strong Trailer
Along with Chris Hemsworth, the titular U.S. Special Forces Team also includes Michael Shannon (Man of Steel), Michael Peña (Ant-Man), Trevante Rhodes (Moonlight), Geoff Stults (Only the Brave), Thad Luckinbill (The Young and the Restless), Austin Stowell (Bridge of Spies), Ben O'Toole (Hacksaw Ridge), Austin Hebert (Jack Reacher: Never Go Back), Kenneth Miller (Whiskey Tango Fotxtrot), Kenny Sheard (13 Hours) and Jack Kesy (The Strain).
Meanwhile, on the side of Afghanistan's Northern Alliance, who teams up with the U.S. Special Forces, we have Navid Negahban as General Dostum, commanding soldiers played by Laith Nakli (24: Legacy), Fahim Fazli (American Sniper), and Yousuf Azai (Lone Survivor). They're standing in opposition of the Taliban, led by Wonder Woman star Said Taghmaoui.
It looks like the cast has the spectrum of supporting characters from recent military dramas covered pretty well, making for quite an expansive ensemble. Will that be enough to get audiences interested in the story of union during dark times? The movie appears to be aiming for that box office sweet spot that American Sniper landed in January a few years back, and maybe with Jerry Bruckheimer producing, the movie can succeed in the month that is traditionally full of cinematic drivel.
The film is directed by Danish filmmaker Nicolai Fuglsig, making his American directing debut with a script by Ted Tally (Silence of the Lambs) and Peter Craig (The Hunger Games: Mockingjay), based on the the acclaimed book by best-selling author Doug Stanton. Here's the official synopsis from Warner Bros. Pictures:
12 Strong is set in the harrowing days following 9/11 when a U.S. Special Forces team, led by their new Captain, Mitch Nelson (Chris Hemsworth), is chosen to be the first U.S. troops sent into Afghanistan for an extremely dangerous mission. There, in the rugged mountains, they must convince Northern Alliance General Dostum (Nvid Negahban) to join forces with them to fight their common adversary: the Taliban and their Al Qaeda allies. In addition to overcoming mutual distrust and a vast cultural divide, the Americans—accustomed to state-of-the-art warfare—must adopt the rudimentary tactics of the Afghani horse soldiers. But despite their uneasy bond, the new allies face overwhelming odds: outnumbered and outgunned by a ruthless enemy that does
not take prisoners.
12 Strong hits theaters on January 19, 2018.