Female Thor Movie A Possibility, Says Kevin Feige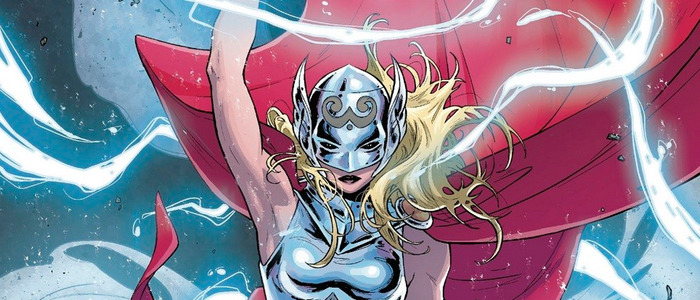 Thor: Ragnarok is about to smash its way into theaters, bringing Chris Hemsworth's God of Thunder back to multiplexes everywhere. But what about the Goddess of Thunder? There was a period recently in Marvel comics when a new female Thor took center stage. Might we ever see this version of the character on the big screen? Marvel Studios head honcho Kevin Feige says it's a possibility. Read the comments about the female Thor movie below.
While casual moviegoers currently know Thor as a big, handsome lunk played by Chris Hemwsorth, Marvel Comics announced a new female Thor in 2014. "No longer is the classic male hero able to hold the mighty hammer, Mjölnir, a brand new female hero will emerge who will be worthy of the name THOR. Who is she? Where did she come from and what is her connection to Asgard and the Marvel Universe?" thundered the press release announcing the new female Thor.
Eventually, the secret identity of the female Thor was revealed to be none other than Jane Foster, Thor's sometimes girlfriend, played in Thor and Thor: The Dark World by Natalie Portman. "Jane's been a part of Thor's universe going back almost to the very beginning," said Thor comic writer Jason Aaron. "She's grown and changed and evolved a lot over the years, become a doctor in her own right. So this to me is not just the next step for her character, but really the next evolution of the core promise that has always been at the heart of Thor's mythology."
Is there a chance we'll ever see this female take on Thor hit the big screen? Marvel Studios president Kevin Feige was asked this very question by Movies.com, and the Marvel big cheese was definitely not ruling the prospect out:
"We always look back to the comics to get those ideas ... sometimes very specific storylines like "Civil War," sometimes just nuggets or characters like "Planet Hulk. So anything that's happened in the comics, even a female Thor, become great potentials and the ideas from which future movies can be born."
Of course, Feige has also been talking about a potential Black Widow movie for a while now too, and so far that hasn't happened. I suppose the big question regarding a potential female Thor movie now is this: will Natalie Portman return to play Jane Foster, should that be the direction they go with the script? Portman was not entirely thrilled with her overall Marvel experience, and was particularly bothered when Patty Jenkins was let go from Thor: The Dark World. Portman does not appear in the upcoming Thor: Ragnarok, telling the Wall Street Journal last year, "As far as I know, I'm done...I mean, I don't know if maybe one day they'll ask for an Avengers 7, or whatever." Portman did clarify in that interview that Thor "was a great thing to be a part of," so there's always that chance.
Thor: Ragnarok opens November 3, 2017.