Colin Powell Movie Will Star Morgan Freeman As The Former Secretary Of State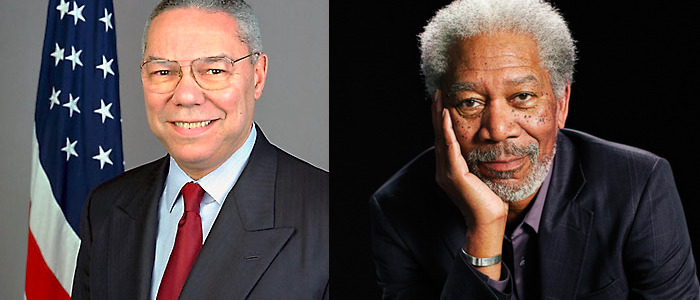 The life of retired four-star general and former U.S. Secretary of State Colin Powell is receiving the biopic treatment, and one of the best actors in the biz has just signed up to play the part. Morgan Freeman will play Powell in a new film from Marshall director Reginald Hudlin. The future Colin Powell movie is being made from a 2011 Black List script.
Colin Powell is about to receive the big screen treatment, again, in Powell. The Colin Powell movie will chronicle Powell's years as Secretary of State in the George W. Bush administration, back in the days when we foolishly thought things at the White House couldn't possibly get any worse. Little did we know!
According to THR, Morgan Freeman, acclaimed actor and possessor of one of the most soothing voices in show business, will play Powell. Powell was a respected Army general who became the first African-American Secretary of State. He was also one of the first voices opposed to United States invasion of Iraq, but he eventually changed his tune and gave a speech to the U.N. Security Council where he alleged Iraq was hiding weapons of mass destruction. After the invasion, no weapons of mass destruction were found.
This won't be the first time events from Powell's life made a leap from the real world to the big screen. In Oliver Stone's 2008 film W., about the life of George W. Bush, Powell was played by Jeffrey Wright as one of the few sane voices within the Bush White House. And recently it was announced that Tyler Perry would be playing Powell in Adam McKay's film about Dick Cheney.
Casting Freeman in the role certainly lends a level of gravitas, and it remains to be seen if this Powell biopic will be critical of the general or be more of a hagiography. The script by Ed Whitworth was on 2011 Black List of the best un-produced screenplays at the time. There, the script's brief synopsis read:
Based on the true story of Colin Powell questioning the Bush administration leading up to his United Nations presentation where he made the case for going to war with Iraq.
In 2013, Forest Whitaker was announced to play Powell, but the film never materialized with Whitaker in the lead. Powell director Reginald Hudlin's film Marshall, about the first African-American Supreme Court Justice Thurgood Marshall, is now in theaters..