'A Christmas Story: Live' Adds '30 Rock' And 'Silicon Valley' Stars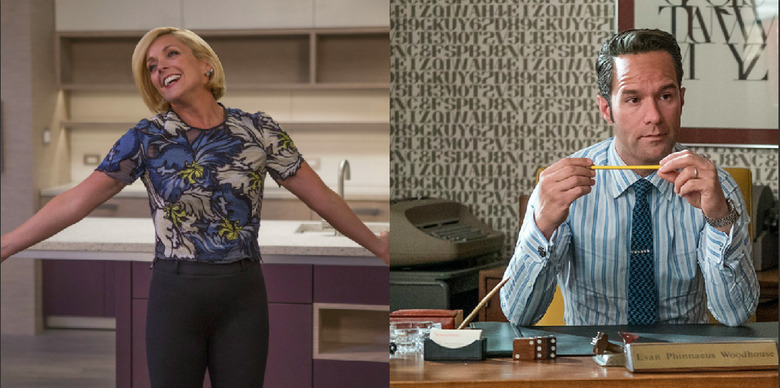 It's nearly the holidays, so you know what that means: the live TV musical craze will be back in full swing.
And the next movie to get the musical telecast treatment is none other than A Christmas Story, which will air on Fox following the network's success with Grease: Live, The Rocky Horror Picture Show, and The Passion. A Christmas Story: Live! had already cast Matthew Broderick as adult Ralphie/the narrator, Andy Walken as young Ralphie, and Maya Rudolph as Mother Parker, but the live telecast has just added two more comedy stalwarts to the program: Jane Krakowski and Chris Diamantopoulos.
30 Rock alum Jane Krakowski will be tapping into her character's theatrical persona in A Christmas Story: Live!, alongside Silicon Valley star Chris Diamantopoulos, according to The Hollywood Reporter. Krakowski will play Ralphie's teacher Miss Shields, while Diamantopoulos will take on the role of Ralphie's dad.
While Krakowski played a semi-musically gifted diva in 30 Rock, she is in fact a Tony winner for Nine, and recently appeared in She Loves Me. Diamantopoulos boasts some Broadway credits as well, performing in Waitress, Les Misérables and The Full Monty. Krakowski is no stranger to singing on live TV either — remember her East Coast intro to 30 Rock's live show in 2010?
The musical adaptation of A Christmas Story is written by Jonathan Tolins and Robert Cary, with songs Dear Evan Hansen songwriters Benj Pasek and Justin Paul. Scott Ellis is directing A Christmas Story: Live! with Alex Rudzinski as the live television director.
Here's the synopsis of the 1983 film version of A Christmas Story:
Based on the humorous writings of author Jean Shepherd, this beloved holiday movie follows the wintry exploits of youngster Ralphie Parker (Peter Billingsley), who spends most of his time dodging a bully (Zack Ward) and dreaming of his ideal Christmas gift, a "Red Ryder air rifle." Frequently at odds with his cranky dad (Darren McGavin) but comforted by his doting mother (Melinda Dillon), Ralphie struggles to make it to Christmas Day with his glasses and his hopes intact.
A Christmas Story: Live! is the latest in a current wave of live television musical telecasts that was kicked off by NBC's The Sound of Music Live! in 2013. Since then, virtually all the prime time networks have gotten in on the live musical phenomenon, with Fox's Grease: Live in 2016, NBC's Peter Pan Live! in 2014, and ABC's Dirty Dancing this year. Fox is also developing a live musical telecast of the '90s cult off-Broadway hit Rent for 2019.A Christmas Story: Live! will air on December 17, 2017 at 7 p.m. EST on Fox.