Saw Gerrera Returns To 'Star Wars Rebels' Next Week; Watch A Clip From 'In The Name Of The Rebellion'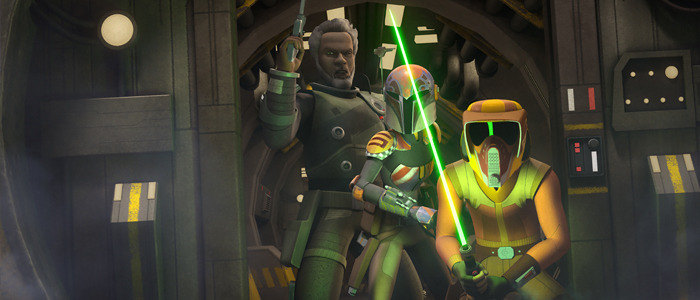 After making his animated debut on The Clone Wars, appearing in flesh and blood in Rogue One: A Star Wars Story, and popping up on Star Wars Rebels earlier this year, the character of Saw Gerrera is slated to return to a galaxy far, far away in next week's two-part episode of Rebels entitled "In the Name of the Rebellion." Check out a new clip of Saw going head to head with another recognizable figure in the Rebel Alliance, and learn the details of his upcoming appearance below.
Disney XD has announced that Gerrera, the militant extremist character played by Oscar-winning actor Forest Whitaker in Rogue One, will have a prominent role in "In the Name of the Rebellion: Parts 1 and 2," which air in a one-hour block of back-to-back episodes on Monday, October 23, 2017. Fans can watch on the DisneyNow app or catch one of the five airings on Disney XD: it'll be playing at 12:30am, 3:00am, 7:30am, 5:30pm, and 9pm ET/PT.
Here's a quick clip of Saw appearing in hologram form as he butts heads with Mon Mothma:
Here's the official synopsis of the new episodes:
As members of the Rebel Alliance, Ezra and the Ghost crew must accept a mission to spy on an Imperial outpost they'd rather destroy.  After being separated from Hera and Kanan, Ezra and Sabine join the desperate quest of Saw Gerrera to hunt down the Empire's elusive secret super weapon.
And here's a photo gallery of some images to top it all off:
Though voice actor Andrew Kishino voiced Saw in The Clone Wars, Whitaker took over the voiceover duties after playing the character in last year's Rogue One. Saw appeared in Rebels earlier this year in "Ghosts of Geonosis," and brought some moral murkiness to the clean-cut "good versus evil" dynamic that we've seen in traditional Star Wars stories thus far. Saw's fanatical tactics are a point of contention for many, but when they're all on the same side and have the same goals in mind (finding the Death Star and taking down the Empire), the difference in approach to warfare provides a fascinating contrast and a mental quagmire that Ezra and the rest of the crew of the Ghost have to grapple with on their own terms.
Saw has also appeared in novels like Star Wars: Catalyst and is mentioned in Star Wars: Bloodline, and Lucasfilm president Kathleen Kennedy has expressed interest in exploring him even further in the future. This is Star Wars Rebels' fourth and final season, so if we don't see him again in this show, expect him to pop up again in comics or novels that fill in more gaps of Star Wars history.