'Bright' Featurette: Will Smith And Joel Edgerton Give A Peek At The Fairy Tale Buddy-Cop Movie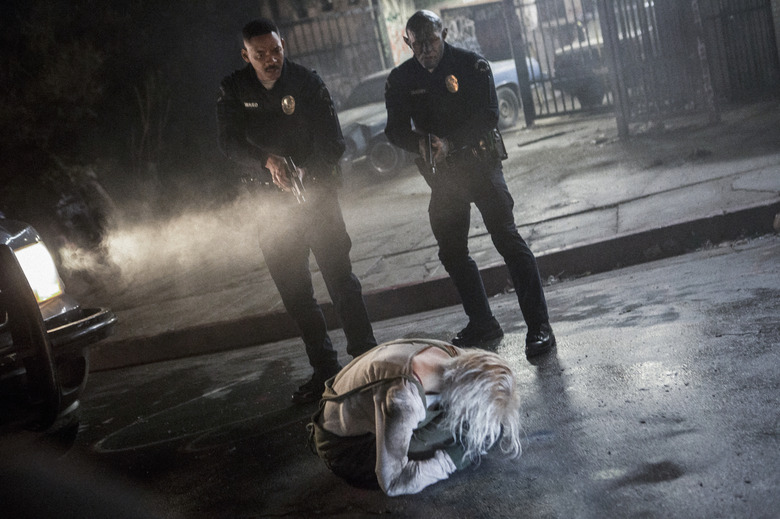 After a detour into the superhero genre, David Ayer is back to making gritty cop dramas — but with a twist. The End of Watch director brought some of his Suicide Squad stars on board for his Netflix film Bright, which combines Ayer's buddy-cop sensibilities with some of the supernatural elements he played with in his DCEU film.
Because you know the only thing missing from a buddy-cop movie are orcs.
Will Smith and Joel Edgerton star as two LAPD officers reluctantly paired together. But it's more than just a clash of personalities — Edgerton plays the first orc police officer in a world where orcs and fairies co-exist warily with the human race, and are often subjected to cruelty and discrimination.
"It seems to be a pretty normal world" at first, Smith says in the new featurette advertising Ayer's latest movie. Smith and Ike Barinholtz are the holdovers from Suicide Squad who are joining Ayer on his next endeavor, which looks as grim and brutal as his last few films.
Watch the Bright Featurette
Like many a sci-fi feature film, Bright delights in taking real-life racial tensions and turning them into a fantastical allegory, with the police violence against orcs reflecting the current struggles that black Americans are undergoing. It seems a bit heavy-handed, especially when star Noomi Rapace passionately declares, "It's L.A. right now. It just happens to be orcs and elves," in the featurette.
But the story kicks into high gear with the discovery of a magic wand, which Smith describes as "sort of like a nuclear weapon" — a powerful artifact that forces Officer Ward and Officer Jakoby (Smith and Edgerton) to go on a high-octane chase as dozens of other groups vie for the wand.
Only in a movie that begins as a transparent allegory about racism and turns into a standard action chase can you hear an awe-stricken character say, "The magic wand, we have to secure it," with a straight face. It's almost as absurd as Will Smith's recent foray into EDM.
Here's the official synopsis for Bright:
Set in an alternate present-day, this action-thriller directed by David Ayer (Suicide Squad, End of Watch, writer of Training Day) follows two cops from very different backgrounds (Ward, a human played by Will Smith, and Jakoby, an orc played by Joel Edgerton) who embark on a routine patrol night that will ultimately alter the future as their world knows it.  Battling both their own personal differences as well as an onslaught of enemies, they must work together to protect a thought-to-be-forgotten relic, which in the wrong hands could destroy everything.
Bright will be available in select theaters and premiere on Netflix on December 22, 2017.