Adam Sandler Is A Good Actor...But Does He Know That?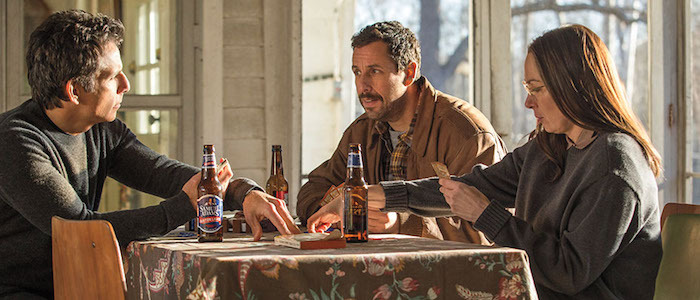 Last week, amidst its various '80s-TV revivals, animated shows, and comedy specials, Netflix released yet another new original film. Noah Baumbach's The Meyerowitz Stories (New and Selected) depicts the slow-burn, middle-aged fracturing of a family whose patriarch (Dustin Hoffman) is both suffering from illness and still able to emotionally damage his three adult children. In the last few years, Baumbach has balanced between collaborating with Greta Gerwig on films like Frances Ha and Mistress America and making movies that focus on mid-40s angst and ennui. His leaning on a familiar trope is itself not surprising; what's shocking is how The Meyerowitz Stories merges two of Netflix's pet projects in one startling whole: indie cinema and Adam Sandler.
At The A.V. Club recently, Jesse Hassenger argued that we need to "admit that Adam Sandler is a good actor." This much is true: Sandler is quite good in The Meyerowitz Stories, as Danny, a man whose daughter is about to go to college, whose wife is separating from him, and who is generally unmoored from life in part because of latent resentments he holds towards his father Harold, an ex-professor and sculptor convinced of his own massive talent even if the world disagrees. But while it's true that Adam Sandler is a good actor, and has been a good actor in the past, he is not a revelation in the film. If anything, we can only hope that Baumbach's film serves as a reminder of Sandler's talent...to Sandler himself.
The Meyerowitz Stories arrived on Netflix (and in a handful of theaters) only a couple of weeks before the 15th anniversary of the actual revelation of Sandler's talent. Proof that Adam Sandler had more capability within him outside of just making silly voices and shouting arrived in the form of Punch-Drunk Love. Paul Thomas Anderson's nervy, unpredictable romantic comedy opened in the fall of 2002 to raves from critics and confusion from audiences who might have expected something less intense and inexplicable than the story of a toilet-plunger businessman who has an awkward romance with a beautiful British woman (Emily Watson), while also fending off a crude phone-sex team from Utah who try to extort him.
Anderson has all but said that Punch-Drunk Love was something that inspired him because of the joy Sandler's films The Wedding Singer and The Waterboy brought to him. "I wanna learn from that dude. What is it that's so appealing about him to so many people? I think he's this great communicator," the auteur once told Roger Ebert. But of course, Anderson's take on an Adam Sandler film features the comic as Barry Egan, an introvert with a highly specialized business, a group of emasculating sisters, a near-inability to hold a conversation without losing his temper, a fixation with Healthy Choice pudding cups, and a mysterious harmonium he plays to gain emotional support. Anderson may have been a fan of Sandler's comedies like Happy Gilmore and Billy Madison, but his depiction of the Sandler type is less aspirational and rebellious, and more emotionally fractured and stunted. Punch-Drunk Love remains one of Anderson's most remarkable, unnerving, and intense films, and Sandler's barely hinged performance is largely responsible.
Though Punch-Drunk Love was not a financial success, it was not so much of a heartbreak that Sandler refused to revert entirely back to his dumb comedies. A couple years later, he co-starred in James L. Brooks' Spanglish, followed by Reign Over Me in 2007 and Judd Apatow's Funny People in 2009. That latter film, title and Apatow connection aside, is as much about critically examining Sandler's career in lazy comic fare as it is about making dick and marijuana jokes.
So, The Meyerowitz Stories, the first time in eight years when Sandler made a more dramatic film that was not roundly panned (unlike Men, Women, and Children or even Tom McCarthy's The Cobbler), is not a surprising film in this respect. There's enough in Danny that might seem familiar to a fan of Sandler's work: he's a diehard Mets fan, he plays music with his daughter, and he even gets into a cathartic, ridiculous shoving match with his half-brother, played by Ben Stiller.
But Danny is, in many ways, a damaged individual who can barely allow himself the self-awareness to admit his own pain. The film, a hybrid of The Royal Tenenbaums and Alex Ross Perry's snappish Listen Up Philip, is unflinching in showing us how badly Harold has screwed up his children: Stiller's Matthew is the most superficially successful and often treated as the favorite, but even he resents his dad. Danny is older, but ignored despite having his own artistic proclivities in music. Too often, Harold talks over Danny, ignores his interests, and forces his own choices on his adult son.
Sandler never feels remotely uncomfortable or unfit in the role; instead, he arguably offers the film's best performance. We can chalk this up to age or experience – Danny's biggest emotional tie is to his daughter Eliza (Grace Van Patten) and Sandler fits surprisingly well as a dad suffering from empty-nest syndrome. The point is this: Adam Sandler is a good actor. He should keep that in mind.
The last few years have mostly been a dark period, financially at least, for Sandler. He's working now with Netflix on films like The Do Over, The Ridiculous Six, and Sandy Wexler. (He's filming a new one, co-starring Chris Rock.) Before that, he made films like Grown Ups, Just Go With It, Pixels, and Blended. Too often, his films feel alike feature-length excuses to hang out with his buddies in the tropics or a vacation home in the mountains. We can wonder if the way that audiences ignored or were baffled by Punch-Drunk Love and even something slightly more mainstream like Funny People led Sandler to primarily ignore more artistic, challenging roles. Making movies on Netflix offers Sandler vastly more opportunities, without the heartbreak of knowing who is or isn't watching his movies. The Meyerowitz Stories offers yet another piece of evidence in the case that Adam Sandler, like Bill Murray, Will Ferrell, and other stars from Saturday Night Live, are gifted dramatic actors. Hopefully, Adam Sandler doesn't need to be further convinced of his own talents.