'Lone Wolf And Cub' Remake Hires Andrew Kevin Walker To Pen Screenplay For Justin Lin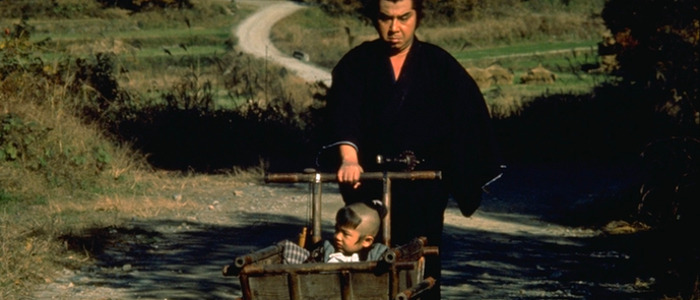 Seven scribe Andrew Kevin Walker has been tapped to pen a new adaptation of the manga Lone Wolf and Cub. Previously adapted into a six-film series in the 1970s, the new take on Lone Wolf and Cub will be produced by Justin Lin, who will likely direct as well. Hop into a baby cart to hades and read the Lone Wolf and Cub remake details below.
Lone Wolf and Cub, the classic manga created by writer Kazuo Koike and artist Goseki Kojima, is about to find a new lease on life courtesy of Seven screenwriter Andrew Kevin Walker. THR reports Walker will write a new script based on the manga, with Fast and the Furious and Star Trek Beyond filmmaker Justin Lin set to produce and possibly direct. A proposed new Lone Wolf and Cub has been kicking around Hollywood since 2003, with Darren Aronofsky at one point attached to direct. Lin's involvement with the project was previously announced in 2012, back when David and Janet Peoples were hired to write the script. Now Walker has the job.
Lone Wolf and Cub focuses on Itto Ogami, a shogun's executioner who embarks on a bloody journey of revenge with his toddler son Daigoro by his side. The seminal story has inspired everything from Road to Perdition to Logan, and was the basis for a series of six bloody, highly entertaining films in the 1970s: Lone Wolf and Cub: Sword of Vengeance, Lone Wolf and Cub: Baby Cart at the River Styx, Lone Wolf and Cub: Baby Cart to Hades, Lone Wolf and Cub: Baby Cart in Peril, Lone Wolf and Cub: Baby Cart in the Land of Demons and Lone Wolf and Cub: White Heaven in Hell. Here's the synopsis for the original film series courtesy of the excellent Criterion Collection box set:
Based on the best-selling manga series, the six intensely kinetic Lone Wolf and Cub films elevated chanbara to bloody new heights. The shogun's executioner, Itto Ogami (Tomisaburo Wakayama), takes to wandering the countryside as an assassin—along with his infant son Daigoro (Akihiro Tomikawa) and a seemingly infinitely weaponized perambulator—helping those he encounters while seeking vengeance for his murdered wife. Delivering stylish thrills and a body count that defies belief, Lone Wolf and Cub is beloved for its brilliantly choreographed action sequences as well as its tender depiction of the bonds between a parent and a child.
Details are slim on what this new take on Lone Wolf and Cub will be like, but here's hoping it won't update the plot to modern times for some weird reason, and also that it will avoid whitewashing its cast of characters. We'll know more once the production starts to take shape.