David Fincher Almost Directed The 'Deadwood' Pilot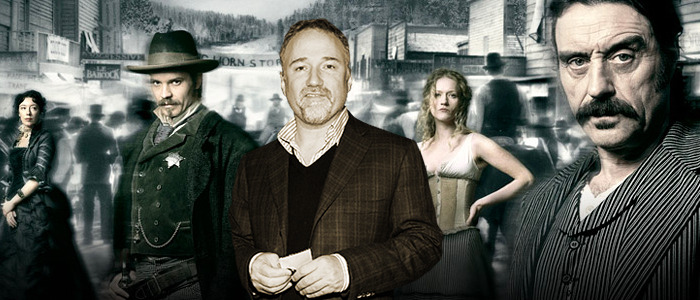 From the "what could have been" department comes news that David Fincher almost directed the pilot episode of HBO's excellent Shakespearian Western Deadwood. Fincher revealed in a new interview that he came very close to helming the Deadwood pilot, but sadly this never came to pass. Get the David Fincher Deadwood details below.
David Fincher, the director behind Seven, Zodiac and a string of other dark, moody films, is no stranger to TV. He helmed the pilot episode of Netflix's House of Cards and directed four episodes of Netflix's latest series, the serial killer drama Mindhunter. Fincher is making the interview rounds to help promote Mindhunter, and a recent interview revealed an interesting bit of TV-related information about the filmmaker.
Speaking with Esquire, Fincher disclosed that he came incredibly close to directing the pilot episode of HBO's brilliant, vulgar Western Deadwood. The interviewer asked "If you could go into any writers' room and be a fly on the wall, where would you go?", to which Fincher replied:
"I'd probably go to 'The Sopranos' season five or six. I would like to watch David Chase work. It seems like a very complete world in somebody's head...And then maybe 'Deadwood' season one. At one point, I was two millimeters from saying yes to directing the pilot, and part of it was I was just so fascinated with David Milch. Milch and Chase are masterful. They both have a great ear as to how things can be presented or how you can get things out of characters. I think that's an odd gift, and it intrigues me."
Deadwood, which ran from 2004 to 2006, was one of HBO's best dramas; a brilliantly written series with an incredibly acted character ensemble set in the dirty, violent gold-mining camp known as Deadwood in Dakota Territory. HBO cancelled the series during it's third season, but creator David Milch has been teasing a possible HBO movie that would tie up any loose ends. As of now, we know a script for the film exists and that HBO claims they plan to move forward with the project, but no other details have surfaced.
As for the Deadwood pilot, when Fincher passed it eventually landed up in the hands of director Walter Hill, the filmmaker behind titles like The Warriors and 48 Hours. Hill is no slouch, and the pilot episode he directed looks great. Still, one can't help but wonder how Fincher's pilot would've turned out. Maybe HBO can coax him into directing that long-rumored Deadwood movie, if they ever get it off the ground.
Manhunter, the new Netflix series that Fincher partially directed, is now streaming on Netflix.