'Game Of Thrones' Prequels: HBO's CEO Calls The Choices "An Embarrassment Of Riches"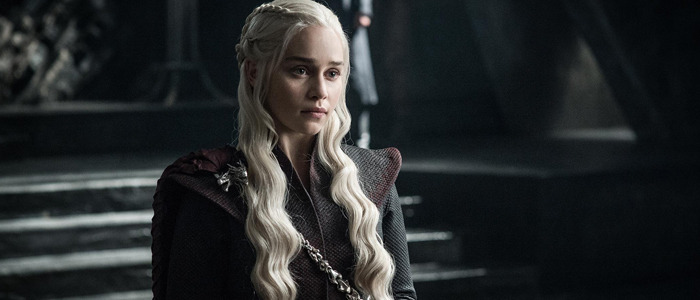 Game of Thrones showrunners David Benioff and Dan Weiss are heading straight into the already-controversial series Confederate after GOT wraps its eighth and final season (which will presumably air sometime in 2019), but that's not the last we'll see of George R.R. Martin's world of ice and fire on the small screen. HBO has multiple prequel shows in development, and the premium channel's CEO has just given an update on the progress of those potential shows. Sheath your swords, chain your dragons, grab a hearty glass of mead, and check out the latest Game of Thrones prequel update below.
Variety has a report from a trade show in Cannes called Mipcom, where HBO's CEO Richard Plepler received an award for his contributions to the TV industry. As you might have guessed, Plepler was asked if he had any updates about the future of Game of Thrones, and while he kept things pretty close to the vest, he teased the quality of what he's seen thus far:
"No. Other than to say it's a fantastic group of writers and talent, most of whom have lived inside the Thrones eco-system so are very, very familiar with its intricacies.
I think we will find with this embarrassment of [writing] riches an exciting property for us to moves forward with. We are looking some things, I have read a couple of early bibles and I'm excited about what I've seen."
Back in May, HBO announced that they were developing four Game of Thrones spin-off shows that were all set years before the events that we've seen in the series thus far. Martin, whose A Song of Ice and Fire novels provide the basis for the mega-hit flagship series, quickly clarified that there were five shows in development. Bryan Cogman, a producer/writer on the current show, is developing one of them (which Martin mysteriously describes as "an adaptation"), and HBO has hired a batch of talented scribes to work on the remaining four:
Max Borenstein (Godzilla, Kong: Skull Island)
Jane Goldman (Kick-Ass and Kingsman)
Brian Helgeland (L.A Confidential, A Knight's Tale)
All of these writers are working closely with Martin. HBO has made it clear that they don't necessarily intend to have all five shows make it into production; they're taking a "wait and see" approach in the hopes that at least one of these writers crafts something that strikes them as being particularly significant. No pressure or anything – Game of Thrones is only a worldwide phenomenon with a hugely passionate fanbase. Should be a piece of cake to appease all of us with a prequel story, right?