'Star Wars Rebels' Final Season Will Be More Serialized, Will Provide Fans With Answers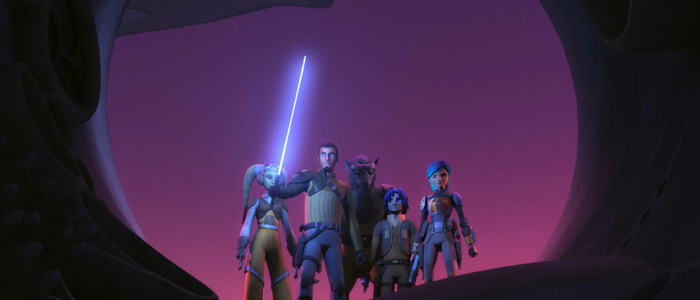 As the animated Star Wars Rebels prepares to air its final season on Disney XD, showrunner Dave Filoni is promising fans that the show will be more serialized and provide answers to questions posed by fans. Get all the Star Wars Rebels final season details you can handle below.
Star Wars Rebels will kick-off its fourth and final season this month, bringing a close to the popular animated series that takes place after Star Wars Episode III: Revenge of the Sith and focuses on a group of rebels who unite aboard a freighter called the Ghost and engage in covert operations. It will be a slightly truncated season, pared down from 22 episodes to 15. As the final season draws closer, showrunner Dave Filoni sat down with Nerdist and spilled a wealth of information about what fans can expect. First and foremost, Filoni says the Star Wars Rebels final season will be much more serialized than previous seasons, with episodes feeding into each other:
"I've been able to build a lot better connections and motivations across all the episodes as we go. It is very unlike other seasons, because while the episodes are self contained, they are very next to each other in progression...They affect each other more; it's more serialized than you're used to."
This echoes with Filoni has said in the past, previously telling IGN:
"This season 4 is unlike anything we've ever done in that, at a certain point, a couple episodes in, it's more a continuous story arc all the way till the end. More than its ever been in anything we've done, including Clone Wars. Each story really fits together. Yes, they are unique and independent but it almost feels like day to day. Because things start to move fast and get exciting, interesting desperate and awesome."
In the Nerdist interview, Filoni also touched on how the final season would answer questions fans have had since the beginning, and bring plot lines to a definitive close:
"I don't want this season to be one answer after another, but I wanted to make sure there are things we've set up that we pay off and that you feel you got some answers. There are some big time explanations and reveals that are unlike anything we've done, and there are also other levels of weirdness that I've added to make up for that fact."
The in-depth interview also touches on several specific characters, and what you can expect to happen to them over the course of the final season. But the most important point that Filoni tries to get across is that the show will conclude with a proper ending:
"Having a proper ending that you could build to, and celebrate, and put up there and say, 'This is the story, this is why we told the story.' That feels really good."
Star Wars Rebels season 4 premieres tonight – October 16, 2017 – on Disney XD.