'Venom' Adds 'Veep' Star Reid Scott To The Already Impressive Ensemble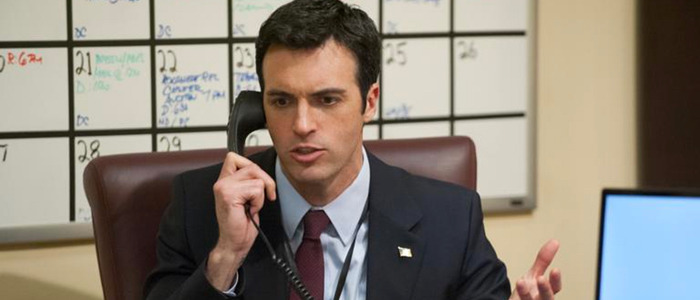 The unexpected Venom casting keeps on keeping on with yet another surprise name thrown into the mix: Veep's Reid Scott. Scott joins an already impressive and still growing cast centered around Tom Hardy playing one of Spider-Man's main antagonists.
We're still not quite sure how a Spider-Man-free Venom spin-off movie will work, but so far the casting for such a film has been impeccable. Tom Hardy is set to play the eponymous slimy character, one of those late-80s/early-90s comic book characters that screamed "Extreme!" at readers from every page. Since Hardy's casting, Sony has also announced parts for Manchester By the Sea's Michelle Williams, Star Wars: Rogue One's Riz Ahmed, and Obvious Child's Jenny Slate.
Now Variety reports that Veep's Reid Scott is in talks to join the ever-growing cast. Sony declined to comment on the casting news, so there's no word on just who Scott would be playing, just as there's really been not much word on who any of the additional Venom cast members are portraying beyond a few brief words...although I have my fingers crossed that Jenny Slate is playing Carnage (note: reports state she's actually playing a scientist, but I can dream). Scott recently appeared in the Reese Witherspoon comedy Home Again.
The Venom film remains something of an anomaly as of now. Will Venom even work in his own movie without Spider-Man to bounce off of? The character previously appeared in Spider-Man 3, where he was playing by Topher Grace, and pretty much no one liked that. For now, all we know is that the film is being directed by Zombieland helmer Ruben Fleischer and that it's possibly being planned as something of an "R-Rated action/horror/sci-fi" film, although the addition of funny people like Jenny Slate and Reid Scott suggests that there's a possibly comedic element at play.
One thing is certain, though: Venom will not be part of the MCU. Though Spider-Man has just found his way into the MCU courtesy of a deal with Sony that resulted in films like Captain America: Civil War and Spider-Man: Homecoming, Marvel Studios head honcho Kevin Feige confirmed that the Venom stand-alone would be completely Sony's baby, saying: "No plans to include [Venom] in the MCU right now. That is Sony's project." However, Feige's comments do not preclude Spider-Man being in the Venom movie. Sony's Amy Pascal commented that both Venom and the Spidey-verse spin-off Silver and Black about Silver Sable and Black Cat "[T]ake place in the world that we're now creating for Peter Parker. I mean, they'll be adjuncts to it, there may be different locations, but it will still all be in the same world and they will be connected to each other."
At the moment, however, Venom looks to be Spider-Man-free. Of the project, director Ruben Fleischer commented:
"I've always been drawn to the more antihero superheroes. There's a dark element to [Venom] and a wit that has always appealed to me."
Venom is set to open October 4, 2018.