'Mayhem' Trailer: All Hell Breaks Loose During A Bad Day At The Office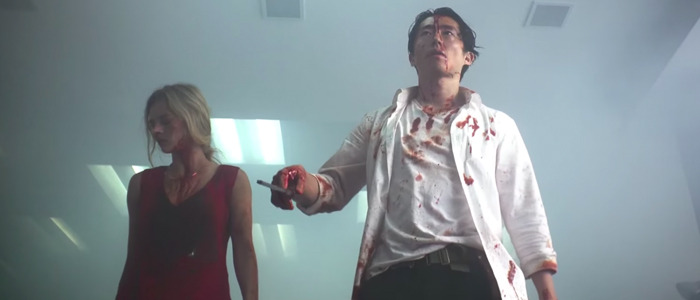 Remember The Belko Experiment? It came out earlier this year and was a B-movie set in an office building about employees who were forced to kill each other at the behest of a mysterious voice who locked them inside. I found that film to be an ugly and largely pointless exercise in brutality, but if that didn't scratch your itch for office-set murder movies, perhaps Mayhem, the newest film from director Joe Lynch (Everly), will be more up your alley. It certainly looks like it's a hell of a lot more fun. Check out a couple of Mayhem trailers below.
Mayhem trailer
There's also a second trailer which, annoyingly, can't be embedded anywhere online, but you can watch that one here. That second trailer, while not as slickly edited, does an especially good job of showing off this film's cheeky vibe, with characters dropping one-liners like "time to go to work" and "consider yourselves notified!"
I know I keep comparing this to The Belko Experiment (sorry, the fact that they're both being released in the same year makes it inevitable), but this looks like it capitalizes on all of the potential for commentary that Belko squandered, while also leaning into its premise and having tons of fun with its violence. One of the many ways Belko dropped the ball was by not using doing enough to have its characters utilize everyday office supplies as weapons, and it looks like Mayhem is all about finding creative and tongue-in-cheek methods of inflicting violence. Seeing a wrongfully-fired employee get revenge on the greedy corporate fat cats on the top floor of a building as a virus causes unfettered insanity may be exactly the type of catharsis that some of you need right now.
The movie has played at a few film festivals already, and for the most part, critics seem to dig it. Variety calls it "a smartly constructed and sardonically funny indie with attitude," Bloody-Disgusting says it's "an independent rager that's pretty fucking hardcore," and Nerdist praises its tone and says it "offers more than a few well-earned chuckles and it rockets forward with such reckless enthusiasm that it's hard to not get caught up in the ultra-violent insanity." We look forward to checking it out for ourselves.
Derek Cho (Steven Yeun, "The Walking Dead") is having a really bad day. After being unjustly fired from his job, he discovers that the law firm's building is under quarantine for a mysterious and dangerous virus. Chaos erupts throughout the office as the victims of the disease begin acting out their wildest impulses. Joining forces with a former client (Samara Weaving, "Ash vs Evil Dead") who has a grudge of her own, Derek savagely fights tooth and nail to get to the executives on the top floor and settle the score once and for all.
Mayhem arrives in theaters, VOD, and Digital HD on November 10, 2017.