'The Alienist' Trailer: Daniel Brühl Finally Gets To Play A Hero Alongside Dakota Fanning, Luke Evans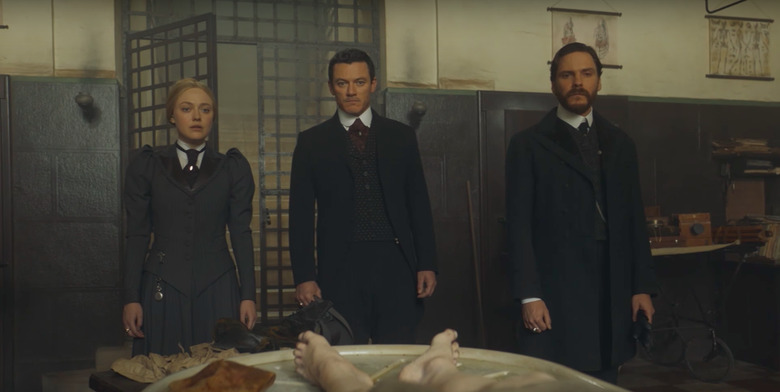 After years of playing Nazis and superhero villains, Daniel Brühl has finally landed a role that every young male protagonist can aspire to: the gifted criminal profiler. But this time, it's in the 19th century!
The Alienist looks like the detective procedural got a gaslamp-lit makeover, with stars Brühl, Luke Evans, and Dakota Fanning teaming up to work as early criminal profilers in 1896, attempting to get into the mind of one of New York City's first serial killers before they hunt him down.
"Instead of looking to cure a disease of the body, I look to help those who are suffering from illness of the mind," Daniel Brühl's Dr. Laszlo Kreizler says in the opening shots of the Alienist trailer. "Sometimes, society looks upon people as crazy. It may only mean that they are alienated from their own true natures."
The Alienist refers to Brühl's alienist character, an early term for a criminal psychologist. But Dr. Kreizler can't don the Sherlock deer stalker on his own — he's soon joined by newspaper illustrator John Moore (Evans) and aspiring police detective Sarah Howard (Fanning), as they form a unit to combine Kreizler's psychology techniques with old-fashioned detective work.
Watch The Alienist Trailer
Set during the ironically-named Gilded Age, in which crime and butchered medical practices abound, the series looks moody and brutal, with the trio facing danger and new enemies at every corner. The field of criminal profiling is young and untested, and it looks like few people trust the trio's newfangled techniques that will someday become the basis for virtually every procedural show on prime time TV.
But though he inhabits a familiar archetype, I couldn't be happier that Brühl has graduated in Hollywood from playing a Nazi or heavily-accented villain in every other role (Inglourious Basterds, Captain America: Civil War, arguably Rush). He's an unsung talent whose leading man capabilities have been on display since 2003's Good Bye Lenin! and hopefully The Alienist will give him an opportunity to show what he can do.
The Alienist opens when a series of haunting, gruesome murders of boy prostitutes grips New York City. Newly appointed police commissioner Theodore Roosevelt (Geraghty) calls upon criminal psychologist (aka alienist) Dr. Laszlo Kreizler (Brühl) and newspaper illustrator John Moore (Evans) to conduct the investigation in secret. They are joined by Sara Howard (Fanning), a headstrong secretary determined to become the city's first female police detective. Using the emerging disciplines of psychology and early forensic investigation techniques, this band of social outsiders set out to find and apprehend one of New York City's first serial killers.
The Alienist is based on the novel by Caleb Carr and created for TV by Cary Fukunaga — which explains the somber cinematic tone. It also stars Douglas Smith, Matthew Shear, Matt Lintz, and Q'orianka Kilcher.
The Alienist is an eight-part series set to premiere on TNT on Monday, January 22, 2018 at 9 p.m. ET/PT.