'Godless' Trailer: Jeff Daniels And Michelle Dockery Go West In Steven Soderbergh's Netflix Series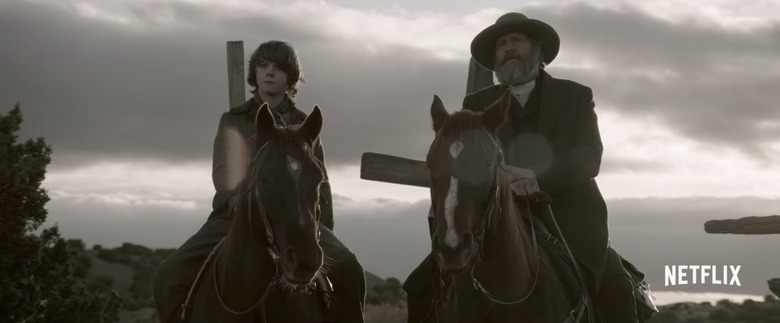 Neo-Westerns and Western remakes abound, but you'd be hard pressed to find a good old-fashioned original Western right now. Steven Soderbergh, who after a brief flirtation with his old feature film haunts with Logan Lucky, has returned to the television world to offer you just that.
Soderbergh is producing Godless, a new limited series on Netflix created by Scott Frank (co-writer of this year's genre-bending superhero hit Logan). The streaming service has just dropped a teaser trailer for the series, and it's just as dusty and grim as you'd expect from a straight Western, with Jeff Daniels, Michelle Dockery, and Jack O'Connell leading the star-studded cast.
Watch the Godless Trailer
The teaser trailer welcomes you to "no-man's land" as a narrator ominously declares, "T'is a fearful thing to love what death can touch. To love, to hope, to dream, to be, to lose. But your life has lived in me. To remember this brings painful joy. T'is a human thing, to love what death has touched."
Images flash of the stark life in the wild west, as the residents of La Belle — New Mexico mining town run almost entirely by women — both celebrate life and mourn its losses, and Jeff Daniels' character gazes out against the great horizon. Daniels plays a well-known criminal named Frank Griffin whose gang seeks revenge against O'Connell's traitorous Roy Goode. Roy finds shelter at La Belle, where he bonds with Michelle Dockery's widow and fellow outcast Alice Fletcher. The trailer is moody and ponderous now, but be assured, a battle is brewing.
While the premise of an all-female town sounds intriguing, the trailer seems cut from the same cloth as many a John Wayne movie — masculine, gruff, and centered around the male characters played by Daniels and Jack O'Connell. But it is just a teaser, so more may be to come.
See a poster for the series below.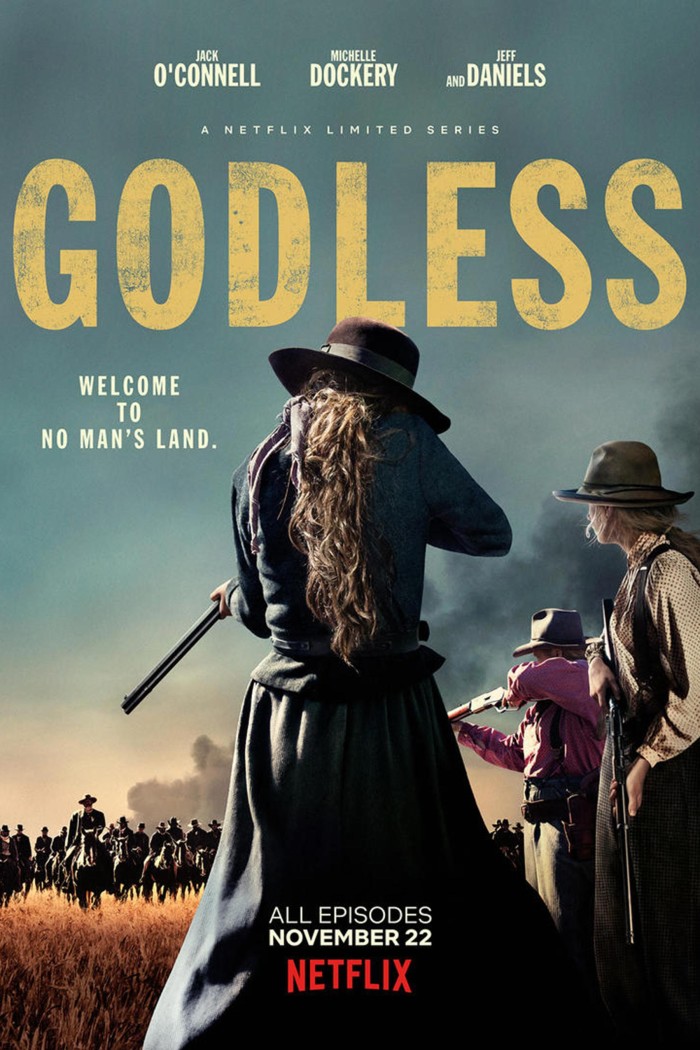 Here's the official synopsis for Godless:
Frank Griffin, an outlaw terrorizing the 1880s American West, hunts down Roy Goode, his partner turned enemy. Roy hides out at a ranch as Frank's chase leads him to La Belle, New Mexico – a town mysteriously made up entirely of women.
Godless is a seven-part limited series that is set to premiere on Netflix on November 22, 2017.