A Guide To Cinema's 10 Greatest Spooky Romances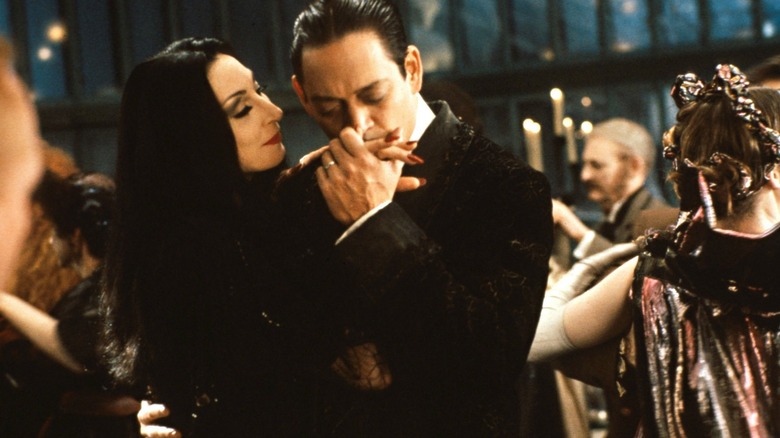 When people are looking for movies to watch during the Halloween season, their eyes are often turned to the Horror genre. But what about the other emotional aspects of what many (including yours truly) considers "The Most Wonderful Time of the Year"? And more importantly, what about...love?
That's right, All Hallow's Eve can be quite the time for some romance to be in the air! From doomed couples to those who found love because of their quirks and oddities, this holiday of monsters and ghouls can be a great time to explore some of cinema's greatest (and spookiest) romances.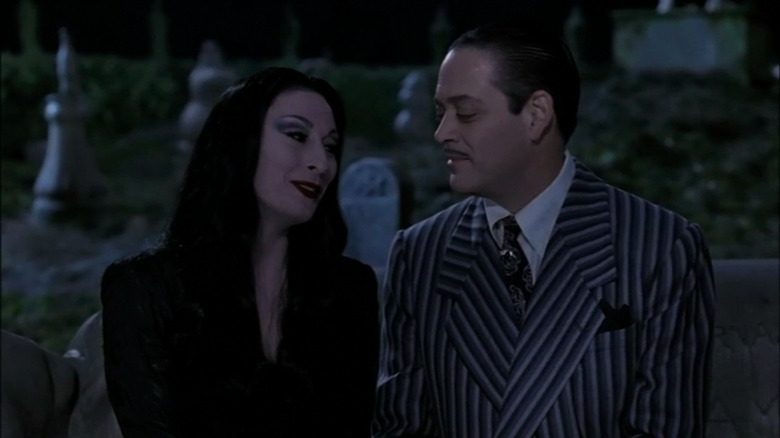 Morticia and Gomez Addams, The Addams Family
It's hard to discuss Halloween without mentioning these two haunting lovebirds. Though the Addams Family series is certainly one more for laughs than for the traditional creepy creeps of the season, it's always nice to see a couple that really accepts each other for who they are, frights and all. From the lovely tango dances that happen every few hours to the auctions that take their breath away to the nightly strolls through the graveyard – Morticia and Gomez make anything look romantic and glamourous.
For the few that don't know of the existence of the Addams Family, the film adaptations are based on a famous cartoon series by Charles Addams and the '60's TV series of the same name, following the shenanigans of a family that finds the beauty in the creepy and spooky aspects of life. Though the cinematic version is focused on finding Gomez's long lost brother Fester, what viewers look forward to seeing the most is the magical on-screen spark between Anjelica Houston and the late Raul Julia as the leaders of the clan.
Obviously, there's a reason that many a meme and social media post is made in honor of the relationship goals these two unique individuals have set for fictional (and real life) couples alike – because they embrace every bit of their weirdness and are proud of their love. And aren't we all looking for that, regardless of the time of year?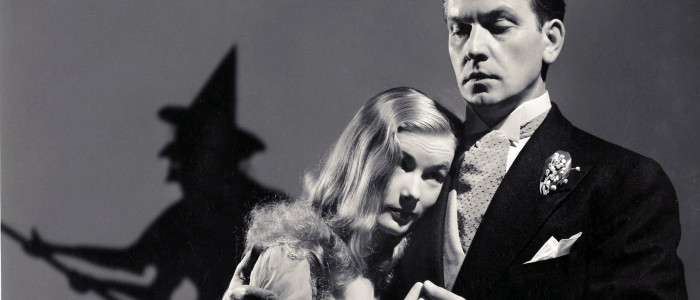 Wallace and Jennifer, I Married A Witch
Have you ever felt like you're just cursed in the ways of love? That no matter who you meet or what you try to do, it never works out? Well, Wallace Wooley (Fredric March) might just be the champion for all of us who have been unlucky in love – except he has an actual excuse for the matter! You see, many years ago, Wallace's multi-great grandfather was cursed by a family of witches to never find true love, and neither would his male heirs. But when thunder strikes and breaks the tree that the witch family's souls were tied to (including Veronica Lake's Jennifer), the true insanity begins.
From love potions gone wrong, to the hilarious yet all too real political humor, I Married a Witch has a story and a couple that hits all the right spots. Neither Wallace or Jennifer are perfect individuals, and even though at times they can be insufferable to watch when we're first introduced to their odd ways, you end up rooting for them to win against the odds of magic and real world struggles alike. When you learn that Lake and March didn't get along on set at all, their infectious chemistry becomes all the more amazing.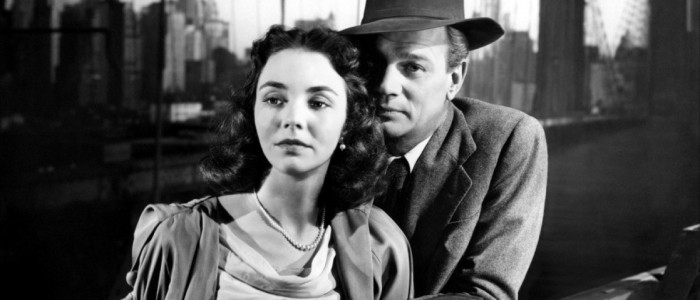 Jennie and Eben, Portrait of Jennie (1948)
Everyone loves a good ghost story, especially one that is made with such care and compassion as the underrated classic Portrait of Jennie. Starring Jennifer Jones and Joseph Cotton, this is a film that was clearly decades ahead of its time. Take a bit of time travel, art, and lots of sentimentality, and you got this David O. Selznick production that still looks as beautiful as ever.
The story tells of a painter that encounters a young girl in Central Park, who becomes the subject of his art. Through their various meetings, even through a short span of time, Jennie appears to become slightly more mature. Eventually, the artist falls so madly in love with the girl and wants to marry her, but she continues to tell him "Wait till I am older." With her sudden change in age, plus the haunting look in her face whenever the sea is shown to her or brought to her attention, something isn't right.
But what is right here is the romance. Truly, if there ever was a movie to stand as a perfect 101 on how to create mysteriously haunting romantic tales, this one will always nail it. Jones and Cotten portray this couple in such unique way. Because of the changing age gap between the two, their dynamic and chemistry always seems to shift. Their passions intensify, as does the conflict between them. It's a journey that still rings true, no matter when you view this spooky tale.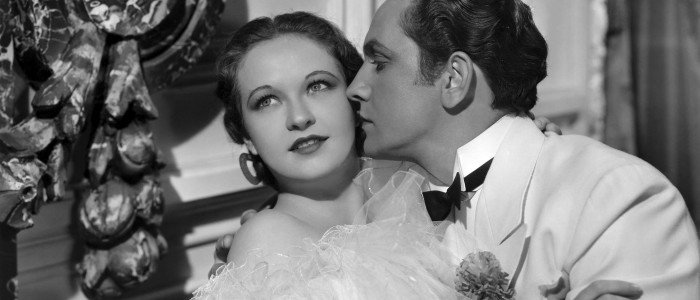 Death and Grazia, Death Takes a Holiday (1934)
Oh look, it's Fredric March again! But he's not playing a normal modern man this time around. In Death, March plays, well, Death itself. One night, he spooks a rich family on their way home, and wishes to take a holiday in the mortal world. Within that time, he meets the beautiful and kind hearted Grazia (Evelyn Venable), a soon-to-be bride, who is more frightened by marriage than what lies beyond her own life. Together, these two connect in a short span of time, and find romance even among the creepiest of circumstances.
Though is sometimes feels a little stage bound because of its theater roots, Death Takes a Holiday stands as a favorite among many classic movie fans simply because it is unabashedly romantic and doesn't care how foolish its concepts may seem. And though it has one of the tinniest of runtimes in feature film history, it embraces its story with a lovely sense of whimsy...and the same can be said of its leading romantic couple.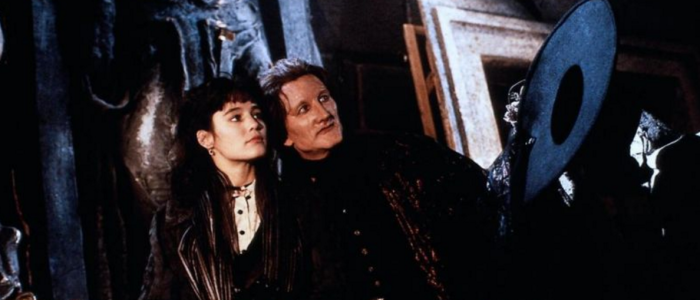 Erik, The Phantom and Christine, The Phantom of the Opera (1989)
There are a few things that come to my mind immediately during the Halloween season: Robert Englund movies and The Phantom of the Opera. And whomever was the mad genius that decided to mix these two things together, I salute you.
In this adaptation of the cult-loved Gaston Leroux novel (which has been previously adapted for film and stage several times), Christine is a "modern" girl wanting to become a famous opera singer. During an audition, she gets hit in the head, and begins to remember memories of what we are supposed to assume is a past life, where she was an opera singer in Victorian-era England. There, a mysterious composer teaches her to sing, but also has some fun "after school" activities – like skinning his victims alive and sewing their flesh to his rotting body! Add all that in with other time travel elements, haunted floppy disks, and the devil, and you got yourself one heck of an oddly romantic slasher movie.
Sure, this might not be the best way to introduce yourself to this famous, somewhat bizarre tale of obsession (the Broadway musical or the classic silent film adaptation are famous for a reason), but this movie is all about that Robert Englund performance – you really understand his creepy adoration for Christine. And though he never really redeems himself in any way towards the end, his chilling rendition of the classic disfigured character makes this a must-watch.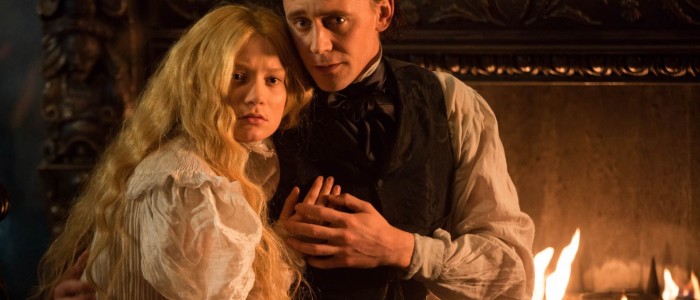 Edith and Sir Thomas, Crimson Peak (2015)
Edith Cushing (Mia Wasikowska) is a heroine destined (even by her Hammer Horror inspired last name) to go through some sort of intense, blood-soaked journey. But of course, the ghostly mentions of a place called Crimson Peak (courtesy of her dead mother) never seem to signal to her that Sir Thomas Sharpe (Tom Hiddleston) might be a romance worth avoiding. "Beware of Crimson Peak" is what she's told, but it should be more like "Watch out for the hot British guy who will break your heart."
Yes, Crimson Peak isn't the most perfect of Guillermo del Toro creations, but its passionate fanbase (which includes yours truly) has embraced its romantic elements and its clear nods to both Gothic literature and the '60s European horror cinema. And when it comes to the central couple of the story, Edith and Thomas are definitely a pairing to examine – especially when certain truths are revealed to the more innocent and wide eyed of the two.
Edith is intelligent and bold in her life choices, but she is also a hopeless romantic. Sir Thomas Sharpe is a young but possibly shady businessman, who clearly has been in and out of failed romances, but has never felt the actual kind of deep, emotional connection that he does with Edith. They're both broken in some way by their pasts and are trying to mend the pieces. And though these lovers might be lost, their path to discovering their chemistry is a treat to behold. Even if it's soaked in blood.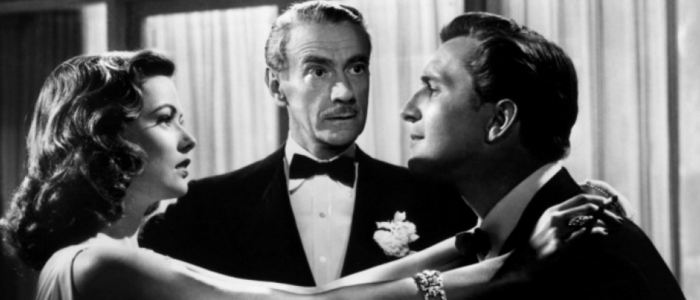 Laura Hunt and All Her Male Suitors, Laura (1944)
Laura tells the story of a Detective McPherson, who is called up one night to investigate the murder of the title character, Laura Hunt. He meets various witnesses and begins to learn her story, so much so that he falls madly in love with the idea of her. But as with many wonderfully written mysteries, there are unexpected turns around every corner.
Though typically referred to as a film noir, Laura is one of those movies that can be also categorized as a real life horror – a girl becoming a "deadly" obsession of multiple gentlemen. And even if the character of Laura Hunt isn't exactly the most innocent of protagonists, it's hard to not gain some sympathy for her compared to other femme fatales, especially when you see the individuals she gets involved with. There's the ever-creepy Waldo, a much older man that shapes Laura into the woman she becomes, followed by Shelby (played by horror icon Vincent Price) who keeps all his lies under his sleeve, and than McPherson, who uses her painting as the only real clue to the figure he's fallen for.
There aren't any vampires or werewolves here, but there are certainly plenty of the ghosts that haunt our daily lives. The threats tied to Laura's romances scare me more than the typical monster.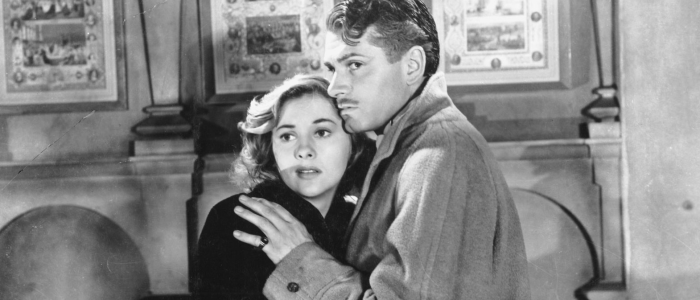 Mrs. de Winter and Maxim, Rebecca (1940)
A young girl (Joan Fontaine) travels as a companion for hire, and meets a handsome, rich widower named Maxim de Winter (Sir Laurence Olivier) who sweeps her off her feet. The two eventually marry, making the shy beauty the new Mrs. de Winter. A future of bliss and peaceful tranquility seems to be ahead for these lovebirds, until they return to Maxim's home, where Mrs. de Winter learns of a shadow that looms over the entirety of her new home – the memory of Maxim's first wife, Rebecca.
Though it is easy to grasp the romance between these two in Daphne du Maurier's novel, Alfred Hitchcock perfectly balances the bond between this emotional couple with stunning visuals and assured direction, making the moments in which the creepy housekeeper Ms. Danvers tries to ruin their love all the more powerful.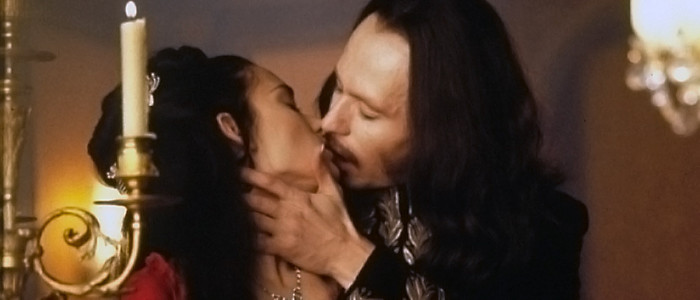 Dracula and Mina, Bram Stoker's Dracula (1992)
Though many an adaptation has been made of this classic tale, nothing beats the perfect mixture of romance and scares like Francis Ford Coppola's take on Dracula. With two excellent performances from Winona Ryder and Gary Oldman, this rendition of the vampire masterpiece focuses on the dynamic between Mina and the tortured prince of darkness, putting their relationship front and center. Rather than being a young girl being seduced for her beauty and virginal appeal, Mina and Dracula are tied together by fate and a past that haunts the film from beginning to end.
Sure, the hammy performances from Keanu Reeves and Anthony Hopkins might make this adaptation hard to swallow at times, but there's something about Ryder and Oldman's chemistry (along with the incredible costumes designs by the late Eiko Ishioka and musical score by Wojciech Kilar) that make this one of those standout adaptations. Mina and Dracula's love is an odd one, but their passion and connection is still hard to dismiss 25 years later.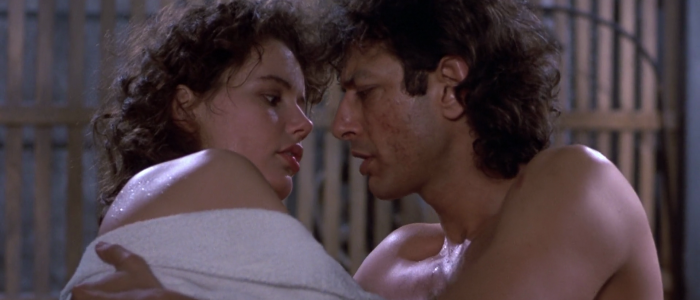 Seth and Veronica, The Fly (1986)
David Cronenberg's remake of The Fly might be one of the scariest movies of all time. An accidental experiment that destroys your human flesh slowly bit by bit, transforming you into an inhuman monster? That's a concept that I want to slap a big old "NOPE" across. But one thing I can always get behind in this version is the relationship between Veronica (Geena Davis) and Seth (Jeff Goldblum).
Honestly, just take a second to imagine the scenario. One night, you're meeting this dashing yet slightly intense guy at a party and a few weeks later, after a lot of back and forth about you being in a relationship with him, he's turning into a man/fly hybrid. Yes, this roller coaster romance should have you intrigued.
But the reason these two work so well together as an onscreen couple (especially when compared to the 1958 version) is that they clearly have defined personalities. Sure, a romantic aura floats around the original, but Veronica and Seth seem like they have a lot more a stake because they feel like an actual couple. Painful and thought provoking, this film nails the romance just as well as it does the horror.