'Blockers' Trailer: John Cena, Leslie Mann, And Ike Barinholtz Are Weirdly Overprotective Parents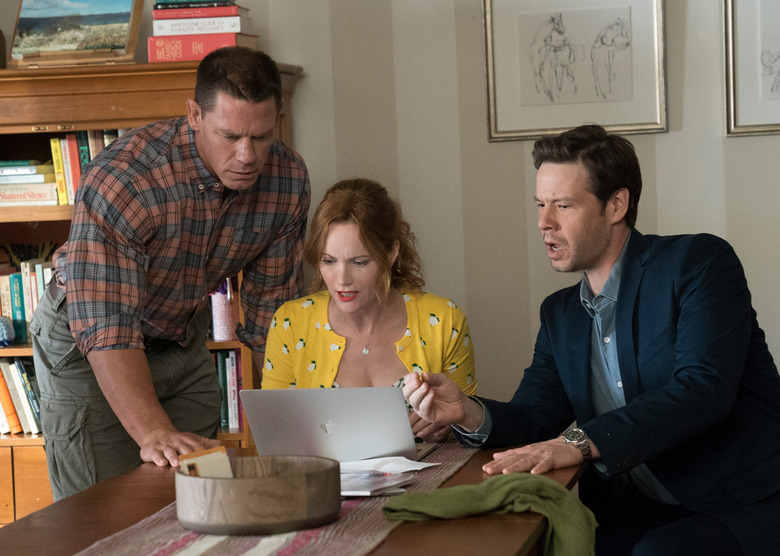 In the footsteps of other raunchy coming-of-age comedies like Superbad and American Pie where teens just want to have a lot of sex comes Blockers, a movie about three parents who will stop at nothing to sabotage their daughters' sex lives.
Starring John Cena, Leslie Mann, and Ike Barinholtz as the traditionally-minded parents who discover their daughters' prom night "sex pact," Blockers is exactly what you'd expect out of a movie about teenage girls written by five dudes.
Red-Band Blockers Trailer
Thrown together by fate — or rather, by their daughters being friends since preschool — Cena, Mann, and Barinholtz's characters get to metaphorically clutch their pearls when they discover texts sent by their kids making a pact to lose their virginities on prom night. Horrified at the besmirching of their girls' purity, they set off on a misguided mission to "c**k block" their kids.
As the stars of the movie, Blockers is more of a vehicle for Cena, Mann, and Barinholtz to get into all sorts of shenanigans – the most cringe-inducing being the scene where Cena chugs a beer into his butt, and subsequently farts it into Barinholtz's face.
Of course, it doesn't really occur to any of them that they're holding their daughters to a weird double standard, ignoring John Cena's wife when she incredulously asks, "Did your dad try to stop you when you wanted to lose your virginity?" except Barinholtz, who says "he high-fived me." The trailer does make a joke out of Cena's uncomfortableness with his daughter's burgeoning sexuality when he can't hug her anymore "without feeling her boobs"...so there's that.
Written by Brian & Jim Kehoe, Jon Hurwitz & Hayden Schlossberg, and Eben Russell, Blockers — whose IMDB summary hilariously still describes Blockers as being about "three fathers" — clumsily feels too much in line with the "protective dad" stereotype. Though Leslie Mann — whose comedic talents are sorely underappreciated — does balance out this "guy's comedy" a bit, as does the presence of female director Kay Cannon, but the movie's premise still feels incredibly dated.
Here's the official synopsis for Blockers:
When three parents stumble upon their daughters' pact to lose their virginity at prom, they launch a covert one-night operation to stop the teens from sealing the deal. Leslie Mann (The Other Woman, This Is 40), Ike Barinholtz (Neighbors, Suicide Squad) and John Cena (Trainwreck, Sisters) star in Blockers, the directorial debut of Kay Cannon (writer of the Pitch Perfect series).
Blockers is set to open in theaters on April 6, 2018.