A 'Roswell' Reboot Is Coming To The CW, With An Immigration Twist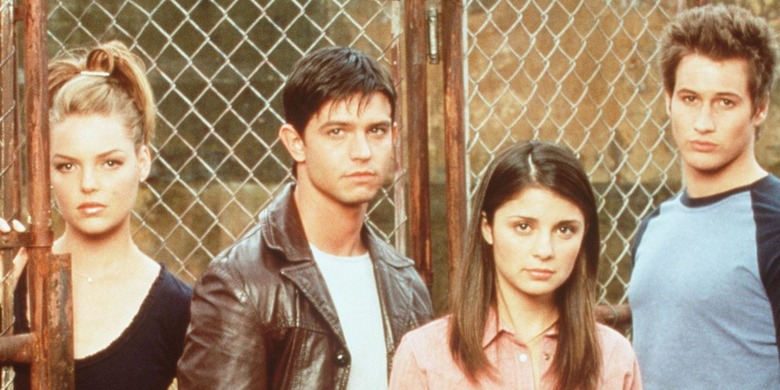 Things are getting paranormal again at Roswell High. The cult teen TV show from 1999 will be getting a modern reboot at The CW, with an even more timely twist.
This time, instead of following a group of gorgeous and talented — but blindingly white — high school students in the infamous town of Roswell, New Mexico, the Roswell reboot will be given an immigration perspective.
The new Roswell reboot will follow the journey of a daughter of undocumented immigrants who returns to her hometown of Roswell, New Mexico — the real-life site of unexplained phenomena and reported extraterrestrial sightings.
Here's the reboot's synopsis from Variety:
The new, one-hour drama series would follow the daughter of undocumented immigrants who reluctantly returns to her tourist-trap hometown of Roswell, New Mexico. There she discovers a shocking truth about her teenage crush who is now a police officer: he's an alien who has kept his unearthly abilities hidden his entire life. She protects his secret as the two reconnect and begin to investigate his origins, but when a violent attack and long-standing government cover-up point to a greater alien presence on Earth, the politics of fear and hatred threaten to expose him and destroy their deepening romance.
Like the original series, the Roswell reboot will be based on the Roswell High books by Melinda Metz.
The original Roswell series ran from 1999 to 2002 on the WB and UPN, and starred Shiri Appleby (now known for the dark reality-show satire UnReal), a pre-Grey's Anatomy Katherine Heigl, and a pre-Lost Emilie de Ravin. Other familiar Gen-X faces include Colin Hanks and Jason Behr. The series garnered a cult following over the course of its three seasons for its balance of teen soap drama and paranormal activities — often suitably paired with Buffy the Vampire Slayer.
Although I'm a loyal Buffy fanatic, I never watched a single episode of Roswell — though I do appreciate it for launching the careers of Appleby, de Ravin, and Colin Hanks of all people. I came into the Buffy fandom late, so never got to experience the one-two punch of Buffy and  Roswell in the early 2000s.
But the time is ripe for a Roswell reboot, which could bring more attention to the original. The CW has produced hit after hit of smart, self-effacing dramas and comedies, including the overwrought and over-written wonder that is Riverdale — which has its own shades of Buffy. It's high time they got in on the supernatural game (with a show that's not named Supernatural) and brought Roswell back. And with Riverdale reportedly introducing supernatural elements, it would be a nifty new pairing for Roswell.
Carina Adly MacKenzie will write and executive produce the Roswell reboot. Justin Falvey and Darryl Frank of Amblin Television will executive produce, alongside Lawrence Bender and Kevin Kelly Brown. No production or premiere date has yet been announced for the new Roswell.