We Are Still Threatened With 'Beetlejuice 2' As New Writer Is Hired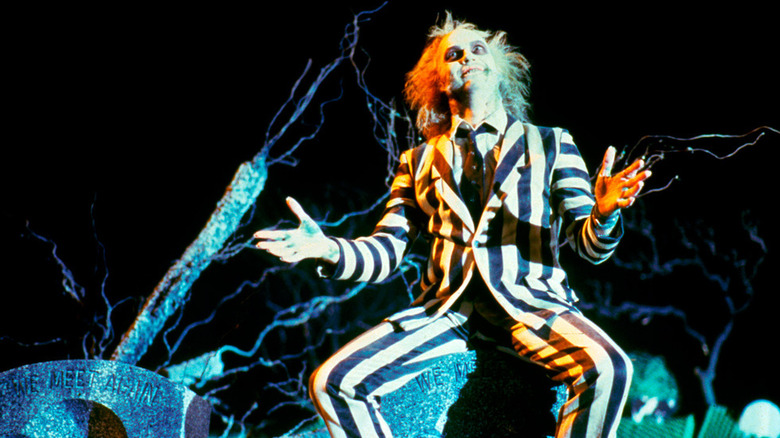 "Beetlejuice, Beetlejuice, Beetle—" It feels like we're stuck in that limbo between the second uttered "Beetlejuice" and the final repetition of the title character's name that will summon the long-gestating sequel.
Still, Beetlejuice 2 continues to inch toward development: a new writer has been hired to revise the script of the project that has been a longtime resident of development hell. But without director Tim Burton or Michael Keaton confirmed to return — though they are reportedly "excited" to collaborate again — for a sequel to the 1988 supernatural cult classic, maybe it's time to let this movie rest in peace.
Rememory writer Mike Vukadinovich has been hired to rewrite the Beetlejuice script at Warner Bros., according to
.
The Beetlejuice sequel has been in the works since 2011, when Warner Bros. 
 Seth Grahame-Smith and David Katzenberg to write the script for the film, but after multiple stops and starts, it seemed like the project was dead in the ground. But don't underestimate the resurrection abilities of a movie sequel based on a ghoul that wreaks havoc on unsuspecting humans when you call his name three times. Beetlejuice 2 is limping on, despite the director/star pair Tim Burton and Michael Keaton already working on a new collaboration for Burton's
As recently as last year, Keaton seemed pessimistic about the possibility of a Beetlejuice sequel, saying
that "it's possible that ship has sailed." Burton and star Winona Ryder range from uncertain to excited at the possibility of a sequel.
However, Deadline reports that the two "have been excited at the thought of collaborating on a sequel," so take that to mean what you will.
There seems to be growing appreciation for the 1988 Burton-directed cult classic, as Beetlejuice is receiving a new re-release and is currently playing in two theaters in Los Angeles. The original starred Alec Baldwin and Geena Davis as a ghostly couple who are miffed when a new family move into their home. Determined to drive out the family, whose little girl (Winona Ryder) can see ghosts, they summon the mischievous ghost Beetlejuice and get more than they bargained for.
To be fair, Beetlejuice 2 wouldn't be the first sequel to be made decades after the original film left a daunting legacy. That trend has seen some critical and commercial success recently, with sequels like Creed, Blade Runner 2049, and Star Wars: The Force Awakens retooling the original story for a modern audience. But there have been a fair amount of misses as well, like Ghostbusters, Men in Black III, and Zoolander 2. We'll have to see what happens here...assuming this sequel ever actually gets made.